Cat Number:
AB-81599
Conjugate:
Unconjugated
Size:
100μg
Clone:
POLY
Concentration:
1mg/ml
Host:
Rb
Isotype:
IgG
Immunogen:
Recombinant protein of human β-actin
Reactivity:
Hu, Ms, Rt, Mk,
Applications:

Western Blot: 1:20.000-50.000 Immunohistochemistry:1:100-1000

Immunofluorescence: 1:100-1000

Molecular Weight:
43 kDa
Purification:
Purified
Background:

Beta-actin (gene name ACTB) is one of six different actin isoforms which have been identified in humans. This is one of the two nonmuscle cytoskeletal actins. Karakozova et al. (2006) found that approximately 40% of intracellular beta-actin is arginylated in vivo. In both wildtype and Ate1-null cells beta-actin was stable, suggesting that arginylation does not induce beta-actin degradation. And arginylation of beta-actin apparently represents a critical step in the actin N-terminal processing needed for actin functioning in vivo.1 Nitric oxide (NO) is a paracrine mediator of vascular and platelet function that is produced in the vasculature by NO synthase-3. And beta-actin plays a critical role in regulating NO formation and signaling in platelets.2 Beta actin is also usually used as a loading control, for among others, the integrity of cells, protein degradation, in PCR and Western Blotting.

Form:
Liquid
Storage:
At -20˚C for one year. At 4˚C for short term storage. Avoid repeated freezing and thawing cycles.
Western blot – ACTB
Western blot – ACTB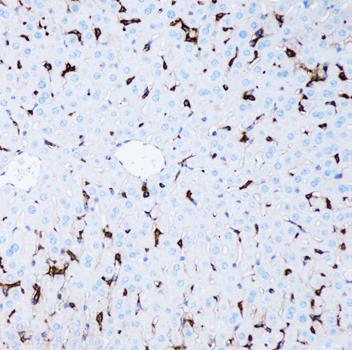 Immunohistochemistry – ACTB
Immunofluorescence – ACTB