Cat Number:
AB-84267
Size:
100ug
Clone:
POLY
Concentration:
1mg/ml
Host:
Rb
Isotype:
IgG
Immunogen:
Recombinant fusion protein containing a sequence corresponding to amino acids 1-175 of human ARF6
Reactivity:
Hu, Ms, Rt
Applications:

Western Blot: 1:500 – 1:2000
Immunofluorescence: 1:50 – 1:200
Immunocytochemistry: 1:50-1:200

Molecular:
19kDa
Purification:
Aff. Pur.
Synonyms:
ARF6
Background:

This gene encodes a member of the human ARF gene family, which is part of the RAS superfamily. The ARF genes encode small guanine nucleotide-binding proteins that stimulate the ADP-ribosyltransferase activity of cholera toxin and play a role in vesicular trafficking and as activators of phospholipase D. The product of this gene is localized to the plasma membrane, and regulates vesicular trafficking, remodelling of membrane lipids, and signaling pathways that lead to actin remodeling. A pseudogene of this gene is located on chromosome 7.

Form:
Liquid
Buffer:
PBS with 0.02% sodium azide,50% glycerol,pH7.3.
Storage:
Store at -20℃. Avoid freeze / thaw cycles.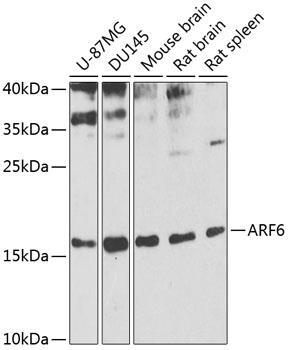 Western blot analysis of extracts of
various cell lines, using ARF6
antibody at 1:1000 dilution.
Secondary antibody: HRP Goat Anti-
Rabbit IgG (H+L) at 1:10000
dilution.
Lysates/proteins: 25ug per lane.
Blocking buffer: 3% nonfat dry milk in
TBST.
Detection: ECL West Pico Plus.
Exposure time: 10s.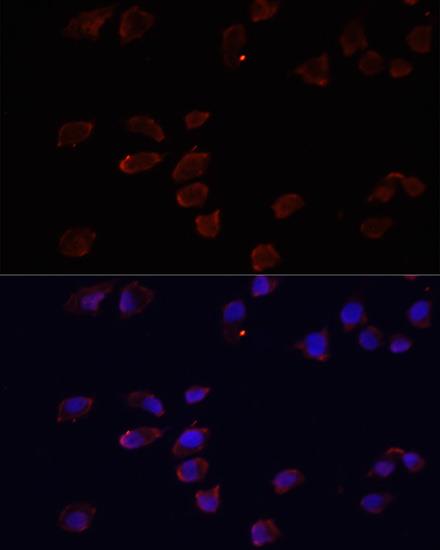 Immunofluorescence analysis of HeLa
cells using ARF6 antibody at
dilution of 1:100. Blue: DAPI for
nuclear staining.