Cat Number:
AB-82904
Conjugate:
Unconjugated
Size:
100 ug
Clone:
POLY
Concentration:
1mg/ml
Host:
Rb
Isotype:
IgG
Immunogen:
A synthetic peptide corresponding to a sequence within amino acids 750-850 of human N-Cadherin
Reactivity:
Hu, Ms, Rt
Applications:

Western Blot, WB (1: 500- 1:1,000)
Immunohistochemistry, IHC-P (1:10- 1:100)

Purification:
Purified
Synonyms:
CDH2; CD325; CDHN; CDw325; NCAD; cadherin-2
Background:

This gene encodes a classical cadherin and member of the cadherin superfamily.Alternative splicing results in multiple transcript variants, at least one of which encodes a preproprotein is proteolytically processed to generate a calcium-dependent cell adhesion molecule and glycoprotein. This protein plays a role in the establishment of left-right asymmetry, development of the nervous system and the formation of cartilage and bone.

Form:
Liquid
Storage:
2-8°C for short term for longer term at -20°C for one year.Avoid repeated freeze and thaw cycles.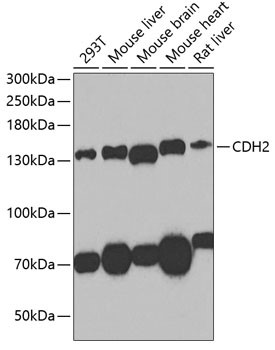 Western blot analysis of extracts of various cell lines, using N-Cadherin antibody at 1:1000 dilution.
Secondary antibody: HRP Goat Anti-Rabbit IgG (H+L) at 1:10000 dilution.
Lysates/proteins: 25ug per lane.
Blocking buffer: 3% nonfat dry milk in TBST.
Detection: ECL West Pico Plus.
Exposure time: 90s.
Immunohistochemistry of paraffin-embedded mouse liver using N-Cadherin Antibody at dilution of 1:100