Cat Number:
AB-J3158
Conjugate:
Unconjugated
Size:
100ug
Clone:
POLY
Concentration:
1mg/ml
Host:
Rb
Isotype:
IgG
Immunogen:
Synthesized peptide derived from human VE-Cadherin
Reactivity:
Hu, Ms, Rt
Applications:

Western Blot: 1:500 – 1:2000
ELISA: 1:1,000-1:2000.

Molecular:
130kDa
Purification:
Aff. Pur.
Synonyms:
Cadherin-5 7B4 antigen Vascular endothelial cadherin VE-cadherin CD antigen CD144
Background:

Cadherins are calcium-dependent cell adhesion proteins. They preferentially interact with themselves in a homophilic manner in connecting cells; cadherins may thus contribute to the sorting of heterogeneous cell types. This cadherin may play a important role in endothelial cell biology through control of the cohesion and organization of the intercellular junctions. It associates with alpha-catenin forming a link to the cytoskeleton. Acts in concert with KRIT1 to establish and maintain correct endothelial cell polarity and vascular lumen. These effects are mediated by recruitment and activation of the Par polarity complex and RAP1B. Required for activation of PRKCZ and for the localization of phosphorylated PRKCZ, PARD3, TIAM1 and RAP1B to the cell junction.

Form:
Liquid
Buffer:
Liquid in PBS containing 50% glycerol, 0.5% BSA and 0.02% sodium azide.
Storage:
At +4°C for short term. For longer term store at -20°C, avoid repeat freeze-thaw cycles.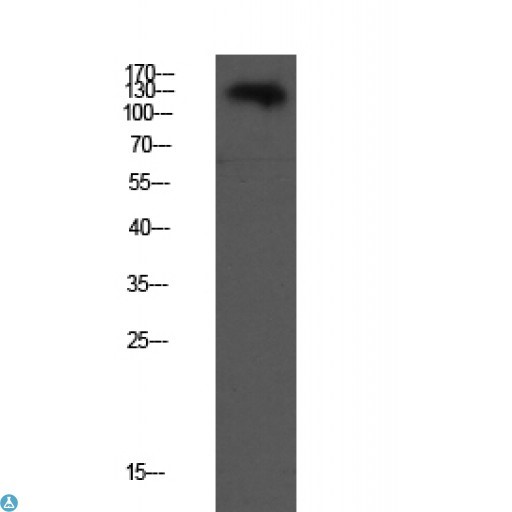 Western blot analysis of CACO2 lysate, antibody was diluted at 1:1,000. Secondary antibody was diluted at 1: 20,000