Cat Number:
MAB-94427
Size:
100 ug
Clone:
5E1
Concentration:
1mg/ml
Host:
Ms
Isotype:
IgG1
Immunogen:
Recombinant Protein
Reactivity:
Hu, Ms, Rt, Ch
Applications:

Western Blot: 1:500-1000
Immunohistochemistry: 1:100-200
Immunofluorescence: 1:100

Purification:
The antibody was affinity-purified from mouse ascites by affinity chromatography using epitope-specific immunogen.
Synonyms:
Caspase-3 CASP-3 Apopain Cysteine protease CPP32 CPP-32 Protein Yama SREBP cleavage activity 1 SCA-1 Caspase-3 subunit p17 Caspase-3 subunit p12
Background:

Active caspase-3 is a protein encoded by the CASP3 gene which is approximately 31,6 kDa. Active caspase-3 is localised to the cytoplasm. It is involved in the TNFR1 pathway, apoptosis modulation and signaling and respiratory electron transport. This protein falls under the cysteineaspartic acid protease family. It is a sequential activator of caspases and plays a central role in the execution-phase of cell apoptosis. Caspases exist as inactive proenzymes which undergo proteolytic processing at conserved aspartic residues to produce two subunits, large and small, that dimerize to form the active enzyme. Active caspase-3 is highly expressed in lung, spleen, heart, liver and kidney. Mutations in the CASP3 gene may result in bladder urothelial carcinoma and primary effusion lymphoma. Active Caspase 3 was affinity-purified from mouse ascites by affinity-chromatography using epitope-specific immunogen. This antibody detects endogenous active caspase-3 protein.

Form:
Liquid
Buffer:
Liquid in PBS containing 50% glycerol, 0.5% BSA and 0.02% sodium azide.
Storage:
Store at -20°C, and avoid repeat freeze-thaw cycles.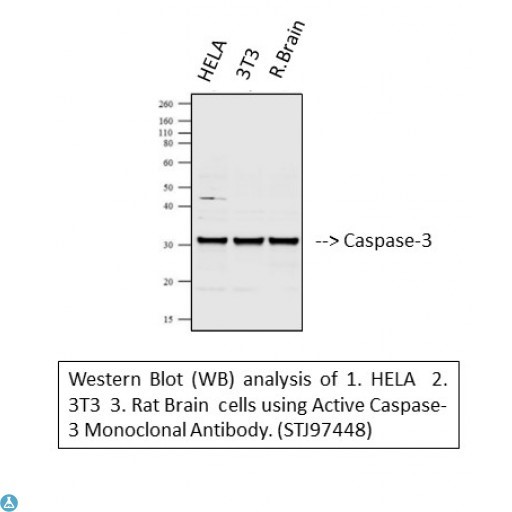 Western Blot analysis of 1. HELA 2.0
3T3 Rat Brain cells using Active Casapse-3 Monoclonal Antibody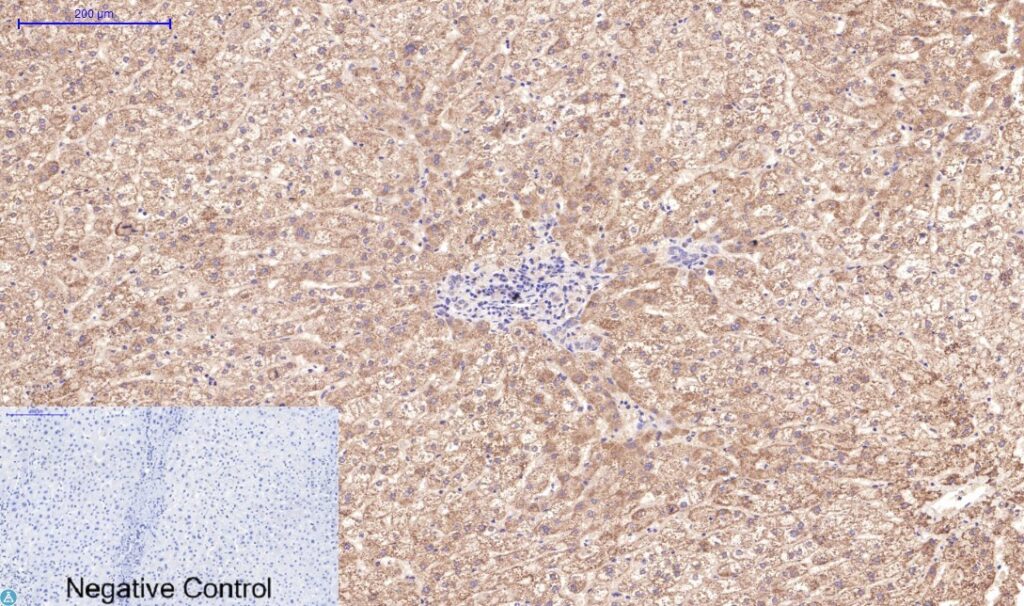 Immunohistochemical analysis of human-liver tissue. Anti-Active Caspase-3 at 1:200 (4°C, overnight). Antigen retrieval – Sodium Citrate pH6 (>98°C, 20min). Secondary – 1:200 (room temp, 30min). Negative control – Secondary only
Immunohistochemical analysis of rat lung tissue. MAB-94427 was diluted at 1:200 (4°C, overnight). Sodium citrate pH6.0 was used for antibody retrieval (>98°C, 20min). Secondary antibody was diluted at 1:200 (room temperature, 30min). Negative control plate was secondary antibody only.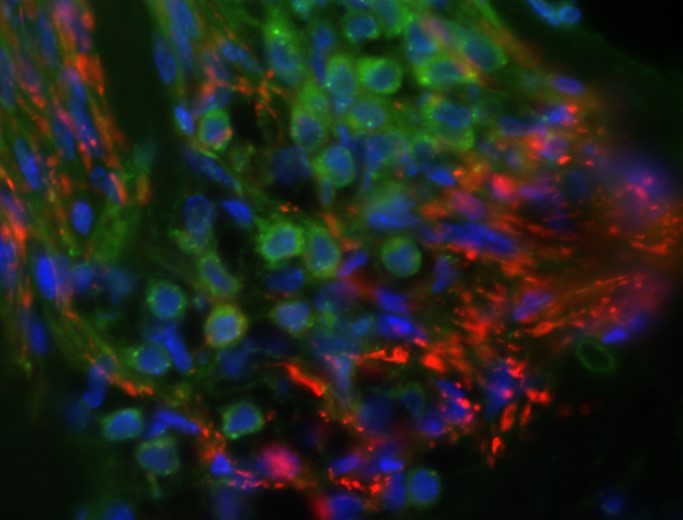 Application Immunofluorescence
Antibody Name Anti-cleaved-caspase-3
Primary Dilution 1:100
Primary Probing for 2' at 13krpm to remove clumps and applied to sections.
Slides are left o/n at 4C
Secondary Antibody Anti-rabbit alexa 568
Reference Antibody N/A
Secondary Dilution 1:400
Secondary Probing RT for 2h – alexa 568 and alexa489
Tissue Cochlea
Tissue Processing 30% and then embedded in OCT. Sections are cut at 12um onto gelatin-subbed slides and stored at -20C.
Positive Control N/A
Negative Control N/A
Blocking 1-2h in 5% donkey serum/1% BSA in PBS/triton.
Wash several times for 5' each in PBS triton
Visualization Sections are mounted in a fluorescence-protective medium
Specificity 3
Findings 1:100 seems to be okay, doesn't give too much background staining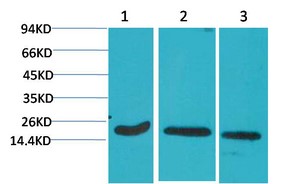 Western blot analysis of 1) Hela, 2) 3T3, 3) Rat Brain Tissue using Active Caspase-3 Monoclonal Antibody.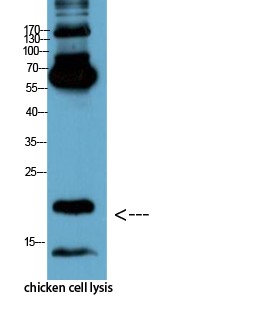 Western Blot analysis of chicken cell lysis using Antibody diluted at 1:1000