Cat Number:
AB-82138
Conjugate:
Unconjugated
Size:
100 ug
Clone:
POLY
Concentration:
1mg/ml
Host:
Rb
Isotype:
IgG
Immunogen:
A synthetic peptide corresponding to a sequence within amino acids 100-200 of human COL1A1
Reactivity:
Hu, Ms, Rt
Applications:

Western Blot: 1:500 -1:1000
Immunofluorescence: 1:50 – 1:200

Molecular:
139kDa
Purification:
Aff. Pur.
Synonyms:
COL1A1; EDSC; OI1; OI2; OI3; OI4
Background:

This gene encodes the pro-alpha1 chains of type I collagen whose triple helix comprises two alpha1 chains and one alpha2 chain. Type I is a fibril-forming collagen found in most connective tissues and is abundant in bone, cornea, dermis and tendon. Mutations in this gene are associated with osteogenesis imperfecta types I-IV, Ehlers- Danlos syndrome type VIIA, Ehlers-Danlos syndrome Classical type, Caffey Disease and idiopathic osteoporosis. Reciprocal translocations between chromosomes 17 and 22, where this gene and the gene for platelet-derived growth factor beta are located, are associated with a particular type of skin tumor called dermatofibrosarcoma protuberans, resulting from unregulated expression of the growth factor. Two transcripts, resulting from the use of alternate polyadenylation signals, have been identified for this gene.

Form:
Liquid
Buffer:
PBS with 0.02% sodium azide,50% glycerol,pH7.3.
Storage:
Store at -20℃. Avoid freeze / thaw cycles.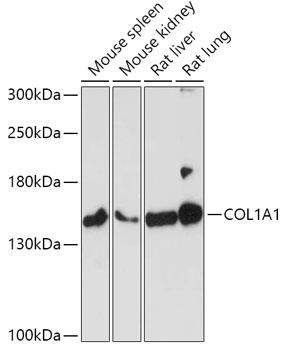 Western blot analysis of extracts of various cell lines, using COL1A1 antibody at 1:1000 dilution. Secondary antibody: HRP Goat Anti-Rabbit IgG (H+L) at 1:10000 dilution.
Lysates/proteins: 25ug per lane.
Blocking buffer: 3% nonfat dry milk in TBST.
Detection: ECL Basic Kit
Exposure time: 3min.
Western blotting validation for Anti-Collagen I Western blot (WB) of HELA cells analysis of Anti-Collagen I antibody.
Immunofluorescence analysis of mouse kidney using COL1A1 Rabbit pAb at dilution of 100 (40x lens). Blue: DAPI for nuclear staining.
Immunofluorescence analysis of U-2 OS cells using COL1A1 Rabbit pAb at dilution of 1:100 (40x lens).
Blue: DAPI for nuclear staining.