Cat Number:
AB-84308
Conjugate:
Unconjugated
Size:
100μg
Clone:
POLY
Concentration:
1mg/ml
Host:
Rb
Isotype:
IgG
Immunogen:
Recombinant protein of human CXCL12.
Reactivity:
Hu, Ms Rt
Applications:

Western Blot: 1:500 – 1:2000
Immunofluorescence: 1:50 – 1:200

Molecular Weight:
11kDa
Purification:
Aff. Pur.
Synonyms:
CXCL12;IRH;PBSF;SCYB12;SDF1;TLSF;TPAR1
Background:

This antimicrobial gene encodes a stromal cell-derived alpha chemokine member of the intercrine family. The encoded protein functions as the ligand for the G-protein coupled receptor, chemokine (C-X-C motif) receptor 4, and plays a role in many diverse cellular functions, including embryogenesis, immune surveillance, inflammation response, tissue homeostasis, and tumor growth and metastasis. Mutations in this gene are associated with resistance to human immunodeficiency virus type 1 infections. Multiple transcript variants encoding different isoforms have been found for this gene.

Form:
Liquid
Buffer:
PBS with 0.02% sodium azide,50% glycerol,pH7.3.
Storage:
Store at -20℃. Avoid freeze / thaw cycles.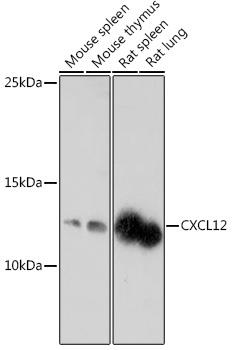 Western blot analysis of extracts of
various cell lines, using CXCL12
antibody at 1:1000 dilution.
Secondary antibody: HRP Goat Anti- Rabbit IgG (H+L) at 1:10000
dilution.
Lysates/proteins: 25ug per lane.
Blocking buffer: 3% nonfat dry milk in TBST.
Detection: ECL West Pico Plus.
Exposure time: 3min.