Cat Number:
MAB-94419
Conjugate:
Unconjugated
Size:
100 ug
Clone:
FR10
Concentration:
1mg/mL
Host:
Ms
Isotype:
IgG1
Immunogen:
A synthetic peptide of Human DDDDK-Tag
Reactivity:
All Species
Applications:

Western Blot: 1:2000 – 1:5000
Immunohistochemistry: 1:50 – 1:500
Immunofluorescence: 1:50 – 1:500
Immunoprecipitation: 1:50 – 1:100

Molecular:
52kDa
Purification:
Purified
Background:

The FLAG tag (peptide sequence DYKDDDDK) is a short, hydrophilic protein tag commonly used in conjunction with antibodies in protein pull-downs to study protein–protein interactions. The FLAG tag may be inserted at the N terminus, the N terminus preceded by a methionine residue, the C terminus, or internal positions of the target protein. Because of its hydrophilic nature, the FLAG tag is commonly found on the surface of a fusion protein, which makes it more available as an epitope for binding to antibodies.

Form:
Liquid
Buffer:
Liquid in PBS containing 50% glycerol pH 7,3 and 0.02% sodium azide.
Storage:
At +4°C for short term. For longer term store at -20°C, avoid repeat freeze-thaw cycles.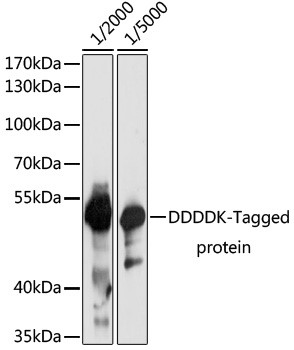 Western blot analysis of over-expressed DDDDK-tagged protein in 293T cells using DDDDK-tag antibody at different dilution.
Each lane was loaded with 2 ug cell lysate.
Secondary antibody: HRP Goat Anti-Mouse IgG (H+L)at 1:10000 dilution.
Blocking buffer: 3% nonfat dry milk in TBST.
Detection: ECL West Pico Kit.
Exposure time: 1s.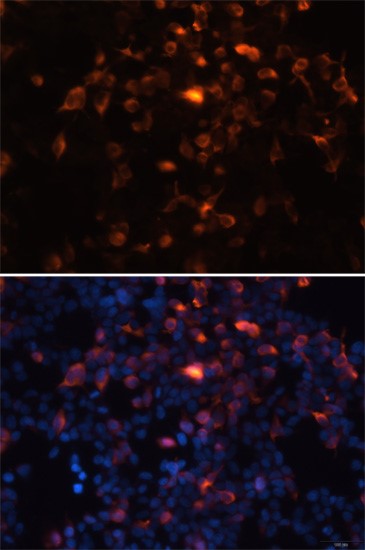 Immunofluorescence analysis of 293T cells using Mouse anti DDDDK-Tag mAb. Blue: DAPI for nuclear staining.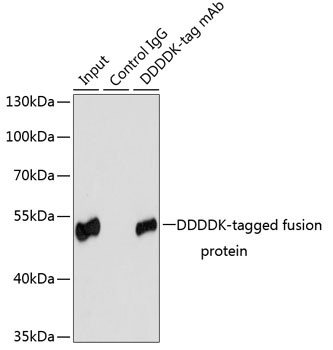 Immunoprecipitation of over-expressed DDDDK-tagged protein in 293T cells incubated with DDDDK-tag antibody.A mock served as negative control and over-expressed 293T cell lysate served as positive control.