Cat Number:
AB-83999
Conjugate:
Unconjugated
Size:
100 ug
Clone:
POLY
Concentration:
1mg/ml
Host:
Rb
Isotype:
IgG
Immunogen:
Recombinant fusion protein containing a sequence corresponding to amino acids 1-288 of human HO-1
Reactivity:
Hu, Ms, Rt
Applications:

Western Blot: 1:500 – 1:2000
Immunohistochemistry: 1:50 – 1:200
Immunofluorescence: 1:50 – 1:200

Molecular Weight:
32kDa
Purification:
Aff. Pur.
Synonyms:
HO-1;HMOX1D;HO-1;HSP32;bK286B10
Background:

Heme oxygenase, an essential enzyme in heme catabolism, cleaves heme to form biliverdin, which is subsequently converted to bilirubin by biliverdin reductase, and carbon monoxide, a putative neurotransmitter. Heme oxygenase activity is induced by its substrate heme and by various nonheme substances. Heme oxygenase occurs as 2 isozymes, an inducible heme oxygenase-1 and a constitutive heme oxygenase-2. HMOX1 and HMOX2 belong to the heme oxygenase family.

Form:
Liquid
Buffer:
PBS with 0.02% sodium azide,50% glycerol,pH7.3.
Storage:
Store at -20℃. Avoid freeze / thaw cycles.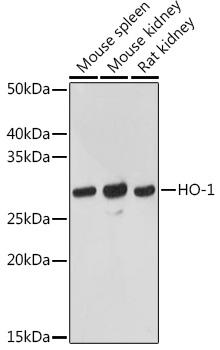 Western blot analysis of extracts of
various cell lines, using HO-1
antibody at 1:1000 dilution.
Secondary antibody: HRP Goat Anti-
Rabbit IgG (H+L) at 1:10000
dilution.
Lysates/proteins: 25ug per lane.
Blocking buffer: 3% nonfat dry milk in
TBST.
Detection: ECL West Pico Plus
Exposure time: 10s.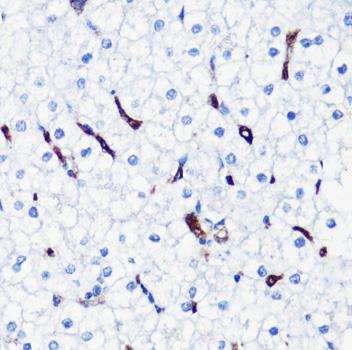 Immunohistochemistry of paraffin embedded human liver using HO-1
antibody at dilution of 1:200 (40x lens).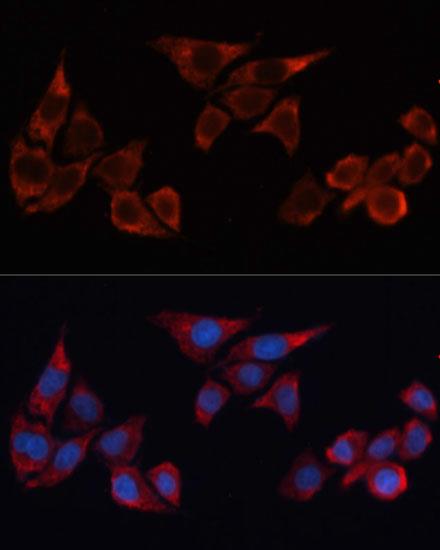 Immunofluorescence analysis of HeLa
cells using HO-1 Polyclonal Antibody
at dilution of 1:100 (40x lens).
Blue: DAPI for nuclear staining.
Review for HO-1 Rabbit Polyclonal Antibody
Experiment Type Western blot (WB)
References
Product: HO-1 Rabbit pAb
Journal: British Journal Of Pharmacology
Application: WB IF:5.487 Species: Mus musculus
PMID: 26566260
Title: Trimetazidine prevents macrophage-mediated septic myocardial dysfunction via activation of the histone deacetylase sirtuin 1
Product:HO-1 Rabbit pAb
Journal:Biochemical And Biophysical Research Communications
Application:WB IF:2.466 Species:Mus musculus
PMID:26903296
Title:Mst1 regulates hepatic lipid metabolism by inhibiting Sirt1 ubiquitination in mice References for HO-1 Rabbit pAb
Product: HO-1 Rabbit pAb
Journal:European Journal of Pharmacology
Application:WB F:2.896 Species:Mus musculus
PMID:26973173
Title:Diabetes blocks the cardioprotective effects of sevoflurane postconditioning by impairing Nrf2/Brg1/HO-1 signaling
Product: HO-1 Rabbit pAb
Journal: Free Radical Biology and Medicine
Application: WB IF: 5.605 Species: Rattus norvegicus
PMID: 27840317
Title: Connexin43 regulates high glucose-induced expression of fibronectin, ICAM-1 and TGF-β1 via Nrf2/ARE pathway in glomerular mesangial cells
Product: HO-1 Rabbit pAb
Journal: Marine Drugs
Application:WB IF:3.503 Species: Rattus norvegicus
PMID: 29621130
Title: Astaxanthin Promotes Nrf2/ARE Signaling to Inhibit HG-Induced Renal Fibrosis in GMCs