Cat Number:
AB-84136
Size:
100ug
Clone:
POLY
Concentration:
1mg/ml
Host:
Rb
Isotype:
IgG
Immunogen:
Recombinant fusion protein containing a sequence corresponding to amino acids 429-528 of human DYRK2
Reactivity:
Hu, Ms
Applications:

Western Blot: 1:500 – 1:1000
Immunohistochemistry: 1:50 – 1:100
Immunofluorescence: 1:20 – 1:100

Molecular:
67kDa
Purification:
Aff. Pur.
Synonyms:
DYRK2; dual specificity tyrosine-phosphorylati on-regulated kinase 2
Background:

DYRK2 belongs to a family of protein kinases whose members are presumed to be involved in cellular growth and/or development. The family is defined by structural similarity of their kinase domains and their capability to autophosphorylate on tyrosine residues. DYRK2 has demonstrated tyrosine autophosphorylation and catalyzed phosphorylation of histones H3 and H2B in vitro. Two isoforms of DYRK2 have been isolated. The predominant isoform, isoform 1, lacks a 5′ terminal insert.

Form:
Liquid
Buffer:
PBS with 0.02% sodium azide,50% glycerol,pH7.3.
Storage:
Store at -20℃. Avoid freeze / thaw cycles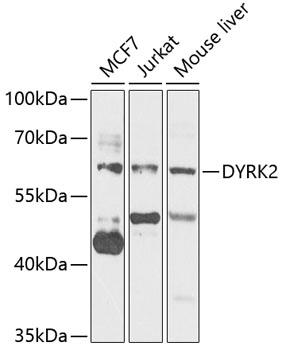 Western blot analysis of extracts of
various cell lines, using DYRK2
antibody at 1:1000 dilution.
Secondary antibody: HRP Goat Anti-
Rabbit IgG (H+L) at 1:10000
dilution.
Lysates/proteins: 25ug per lane.
Blocking buffer: 3% nonfat dry milk in
TBST.
Detection: ECL West Pico Plus.
Exposure time: 5s.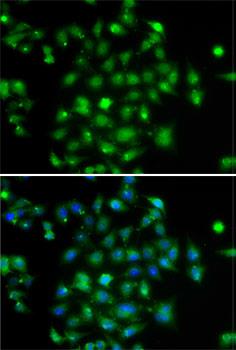 Immunofluorescence analysis of
A-549 cells using DYRK2 antibody.
Blue: DAPI for nuclear
staining.