Cat Number:
AB-81939
Size:
100μg
Clone:
POLY
Concentration:
1mg/ml
Host:
Rb
Isotype:
IgG
Immunogen:
A synthetic peptide corresponding to a sequence within amino acids 700-800 of human FAK.
Reactivity:
Hu,Ms,Rt
Applications:

Western Blot: 1:500 – 1:2000
Immunohistochemistry: 1:50 – 1:200
Immunofluorescence: 1:50 – 1:200
Immunoprecipitation: 1:50 – 1:100

Molecular:
125kDa
Purification:
Aff. Pur.
Synonyms:
FADK;FAK;FAK1;FRNK;PPP1R71;p125FAK;pp125FAK;PTK2
Background:

This gene encodes a cytoplasmic protein tyrosine kinase which is found concentrated in the focal adhesions that form between cells growing in the presence of extracellular matrix constituents. The encoded protein is a member of the FAK subfamily of protein tyrosine kinases but lacks significant sequence similarity to kinases from other subfamilies. Activation of this gene may be an important early step in cell growth and intracellular signal transduction pathways triggered in response to certain neural peptides or to cell interactions with the extracellular matrix. Several transcript variants encoding different isoforms have been found for this gene.

Form:
Liquid
Buffer:
PBS with 0.02% sodium azide,50% glycerol,pH7.3.
Storage:
Store at -20℃. Avoid freeze / thaw cycles.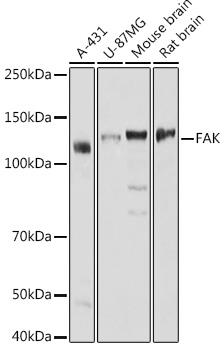 Western blot analysis of extracts of various cell lines, using FAK antibody at 1:1000 dilution.
Secondary antibody: HRP Goat Anti-Rabbit IgG (H+L) at 1:10000 dilution.
Lysates/proteins: 25ug per lane.
Blocking buffer: 3% nonfat dry milk in TBST.
Detection: ECL West Pico Plus
Exposure time: 1s.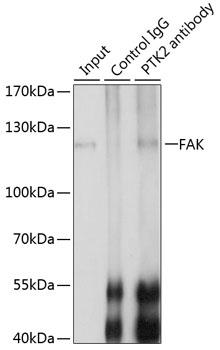 munoprecipitation analysis of 200ug extracts of Jurkat cells, using 3 ug FAK antibody.
Western blot was performed from the immunoprecipitate using FAK antibody at a dilition of 1:1000.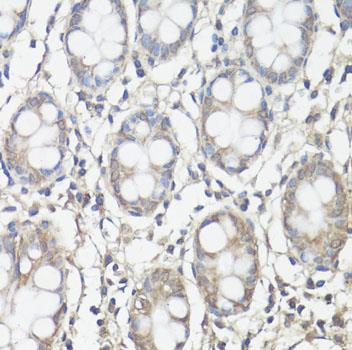 Immunohistochemistry of paraffin embedded human colon using FAK antibody at dilution of 1:100 (40x
lens).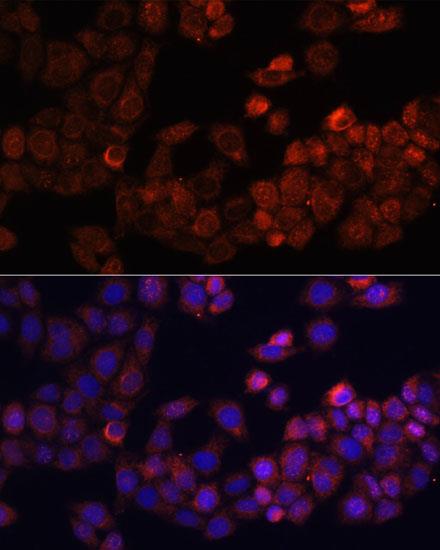 Immunofluorescence analysis of HeLa cells using FAK antibody at dilution of 1:100.
Blue: DAPI for nuclear staining.