Cat Number:
MAB-94572
Size:
100μg
Clone:
2A11G9
Concentration:
1mg/ml
Host:
Ms
Isotype:
IgG1
Immunogen:
Purified recombinant fragment of human FoxP3 expressed in E. Coli.
Reactivity:
Hu, Ms
Applications:

Western Blot: 1:500-1:2000
Immunohistochemistry: 1:200-1:1000
Immunofluorescence: 1:200-1:1000
ELISA: 1:10000

Molecular:
47.2kDa
Purification:
Aff. Pur.
Synonyms:
Forkhead box protein P3 Scurfin Forkhead box protein P3, C-terminally processed Forkhead box protein P3 41 kDa form
Background:

FoxP3 Monoclonal Antibody detects endogenous levels of FoxP3 protein.

Form:
Liquid
Buffer:
Purified antibody in PBS containing 0.03% sodium azide.
Storage:
Store at -20°C, and avoid repeat freeze-thaw cycles.
Western Blot (WB) analysis using FoxP3 Monoclonal Antibody against truncated Foxp3 recombinant (1) and HEK293 cell lysate (2).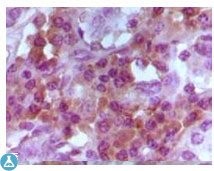 Immunohistochemistry (IHC) analysis
of paraffin-embedded Human Lymphocyto
tissue, showing cytoplasmic and nuclear localization with DAB staining using FoxP3 Monoclonal Antibody.
Confocal Immunofluorescence (IF) analysis of PANC-1 cells using FoxP3 Monoclonal Antibody (green).
Red: Actin filaments have been labeled with
Alexa Fluor-555 phalloidin.