Cat Number:
AB-84234
Conjugate:
Unconjugated
Size:
100ug
Clone:
POLY
Concentration:
1mg/ml
Host:
Rb
Isotype:
IgG
Immunogen:
Synthesized peptide derived from human GABAB R1
Reactivity:
Hu, Ms, Rt, Sm
Applications:

Western Blot: 1:500-1:2000
Immunohistochemistry: 1:100-1:300
ELISA: 1:20000

Molecular:
110kDa
Purification:
The antibody was affinity-purified from rabbit antiserum by affinity chromatography using epitope-specific immunogen.
Synonyms:
Gamma-aminobutyric acid type B receptor subunit 1 GABA-B receptor 1 GABA-B-R1 GABA-BR1 GABABR1 Gb1
Background:

Specificity: GABAB R1 Polyclonal Antibody detects endogenous levels of GABAB R1 protein. Tissue Specificity: Highly expressed in brain and weakly in heart, small intestine and uterus. Isoform 1A is mostly expressed in granular cell and molecular layer. Isoform 1B is mostly expressed in Purkinje cells. Isoform 1E is predominantly expressed in peripheral tissues as kidney, lung, trachea, colon, small intestine, stomach, bone marrow, thymus and mammary gland.

Form:
Liquid
Buffer:
Liquid in PBS containing 50% glycerol, 0.5% BSA and 0.02% sodium azide.
Storage:
Store at -20℃. Avoid freeze / thaw cycles.
Western Blot (WB) analysis of specific cells using GABAB R1 polyclonal antibody.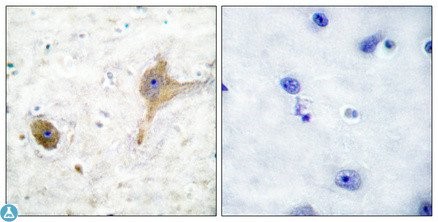 Immunohistochemical analysis of paraffin-embedded Human breast cancer. Antibody was diluted at 1:100 (4°C, overnight). High-pressure and temperature Tris-EDTA, pH8.0 was used for antibody retrieval. Negative control (right) obtained from antibody was pre-absorbed by immunogen peptide.