Cat Number:
MAB-10578
Conjugate:
Unconjugated
Size:
100 ug
Clone:
6C5
Concentration:
1mg/ml
Host:
Ms
Isotype:
IgG1
Immunogen:
Recombinant protein of human GAPDH
Reactivity:
Hu, Ms, Rt
Applications:

Western Blot: 1:5,000-1:20,000
Immunofluorescence 1:200
Immunocytochemistry: 1:100-500

Molecular Weight:
36kDa
Purification:
Aff. Pur.
Background:

Glyceraldehyde-3-phosphate dehydrogenase (GAPDH) catalyzes the phosphorylation of glyceraldehyde-3-phosphate during glycolysis. GAPDH participates in nuclear events including transcription, binding RNA, RNA transportation, DNA replication, DNA repair and apoptosis. Being stably and constitutively expressed at high levels in most tissues and cells, GAPDH is considered a housekeeping protein. It was widely used as a control for RT-PCR and also loading control in electrophoresis and Western blotting. GAPDH is normally expressed in cellular cytoplasm or membrane, but can occasionally translocated to the nucleus post modification such as S-nitrosylation. This antibody is a mouse monoclonal antibody raised against full length GAPDH of human origin. It can recognize the 36kda GAPDH protein in most cells/tissues. Please note that some physiological factors, such as hypoxia and diabetes, increase GAPDH expression in certain cell types.

Form:
Liquid
Buffer:
PBS with 0.02% sodium azide, 50% glycerol, pH7.3.
Storage:
Store at -20℃. Avoid freeze / thaw cycles.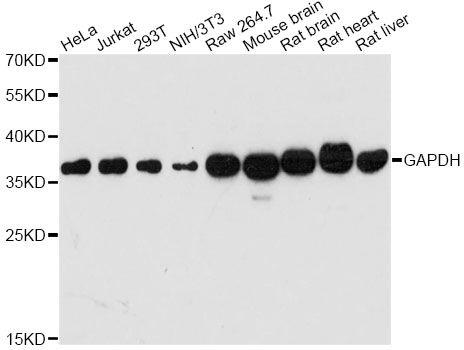 Western blot analysis of extracts of various cell lines, using GAPDH antibody at 1:10,000 dilution.
Secondary antibody: HRP Goat Anti-Mouse IgG (H+L) at 1:10,000 dilution.
Lysates/proteins: 25ug per lane.
Blocking buffer: 3% nonfat dry milk in TBST.
Detection: ECL Basic Kit
Exposure time:60s
Immunohistochemistry of paraffin-embedded rat spleen using GAPDH antibody at dilution of 1:100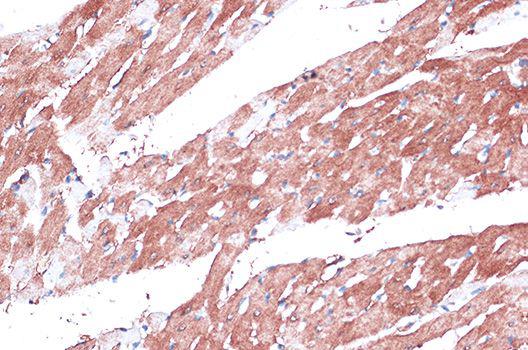 Immunohistochemistry of paraffin-embedded rat heart using GAPDH 1:100
Immunohistochemistry of paraffin-embedded human lung cancer using GAPDH antibody of 1:100
Immunohistochemistry of paraffin-embedded human colon using GAPDH antibody at dilution of 1:100
Immunohistochemistry of paraffin-embedded mouse spinal cord using GAPDH antibody at dilution of 1:100
Immunofluorescent analysis of of HeLa cells stained with mouse mAb to GAPDH,dilution 1:100 in green Blue: DAPI for The antibody produces strong cytoplasmic staining of healthy cells nuclear staining