Cat Number:
MAB-94345
Conjugate:
Unconjugated
Size:
100 ug
Clone:
GFP28
Concentration:
1mg/mL
Host:
Ms
Isotype:
IgG
Immunogen:
Recombinant protein of GFP
Reactivity:
All Species
Applications:

• Western Blot: 1:2,500
• Immunofluorescence: 1:100
• Immunoprecipitation: 1:100

Molecular Weight:
37kDa
Purification:
Aff. Pur.
Background:

Protein tags are protein or peptide sequences located either on the C- or N- terminal of the target protein, which facilitates one or several of the following characteristics: solubility, detection, purification, localization and expression. Green fluorescence protein(GFP) is a protein composed of 238 amino acid residues(26.9kDa) derived from the Jellyfish Aequorea victoria, which emits green light(emission peak at 509nm) when excited by blue light(excitation peak at 395nm). GFP has become an invaluable tool in cell biology research, since its intrinsic fluorescence can be visualized in living cells. EGFP contains the double-amino-acid substitutions Phe-64 to Leu and Ser-65 to Thr(previously published as GFPmut1; PMID: 8707053). In contrast to wtGFP, EGFP has a single, strong, red-shifted excitation peak at 488nm. GFPmut1 fluoresces 35-fold more intensely than wtGFP when excited at 488nm, due to an increase in its extinction coefficient(Em). This antibody is a rabbit polyclonal antibody raised against full-length eGFP and reactive against all variants of Aequorea victoria GFP such as S65T-GFP, RS-GFP, YFP, CFP and eGFP.

Form:
Liquid
Buffer:
PBS with 0.02% sodium azide, 50% glycerol, pH7.
Storage:
Shipment at: 2-8°C Store: At -20°C for long term. Avoid Freeze and Thaw Cycles.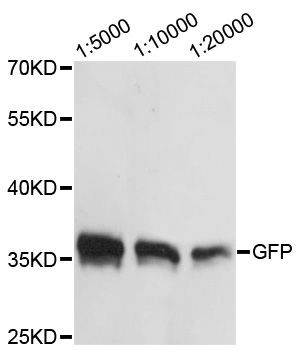 Western blot analysis of over-
expressed GFP fusion protein in 293 cell using GFP-Tag antibody ,at different dilution.
Each lane was loaded with 2 ug cell lysate.
Secondary antibody: HRP Goat Anti-
Mouse IgG (H+L)) at 1:10,000 dilution.
Lysates/proteins: 25ug per lane.
Blocking buffer: 3% nonfat dry milk in TBST.
Detection: ECL Basic Kit.
Exposure time: 1s
Immunoprecipitation of over-expressed GFP-tagged protein in 293T cells incubated using GFP-tag antibody. A mock served as negative control and over-expressed 293T cell lysate served as positive control.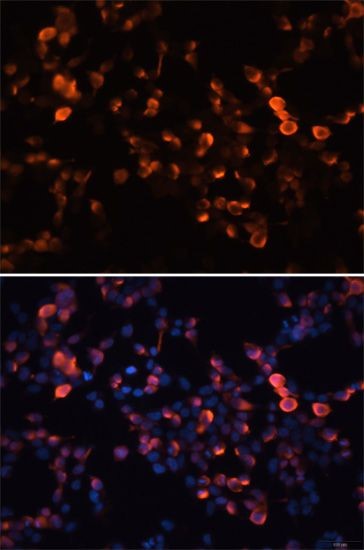 Immunofluorescence analysis of 293T cells using Mouse anti GFP-Tag Blue: DAPI for nuclear staining.