Glutamate Transporter GLIA (GLAST /EAAT1)
Cat Number:
AB-84387
Conjugate:
Unconjugated
Size:
100 ug
Clone:
POLY
Concentration:
1mg/ml
Host:
Rb
Isotype:
IgG
Immunogen:
Recombinant fusion protein containing a sequence corresponding to amino acids453-542 of human EAAT1/EAAT1/SLC1A3.
Reactivity:
Hu, Ms, Rt
Applications:

WB: 1:500 – 1:2000
IHC: 1:100 – 1:200

Molecular Weight:
70kDa
Purification:
Aff. Pur.
Synonyms:
SLC1A3;EA6;EAAT1;GLAST;GLAST1
Background:

This gene encodes a member of a member of a high affinity glutamate transporter family. This gene functions in the termination of excitatory neurotransmission in central nervous system. Mutations are associated with episodic ataxia, Type 6. Alternative splicing results in multiple transcript variants.

Form:
Liquid
Buffer:
PBS with 0.02% sodium azide,50% glycerol,pH7.3.
Storage:
Store at -20℃. Avoid freeze / thaw cycles.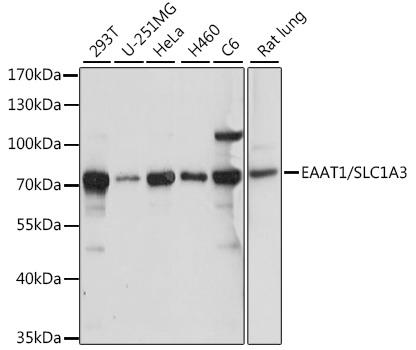 Western blot analysis of extracts of various cell lines,
using EAAT1/EAAT1/SLC1A3 antibody
at 1:1000 dilution.
Secondary antibody: HRP Goat Anti-Rabbit IgG
(H+L) at 1:10000 dilution.
Lysates/proteins: 25ug per lane.
Blocking buffer: 3% nonfat dry milk in TBST.
Detection: ECL West Pico Plus.
Exposure time: 10s