Cat Number:
MAB-91898
Conjugate:
Unconjugated
Size:
100 ug
Clone:
G8
Concentration:
1mg/mL
Host:
Ms
Isotype:
IgG1
Immunogen:
Recombinant GST protein with full length.
Reactivity:
All Species
Applications:

Western Blot 1:2000 – 1:5000
• Immunofluorescence: 1:50 -1:200
• Immunoprecipitation: 1:20 -1:50

The optimal dilutions should be determined by end user

Purification:
Aff. Pur.
Background:

The glutathione S-transferase (GST, previously known as ligandins) family of enzymes are composed of many cytosolic, mitochondrial, and microsomal (now designated as MAPEG) proteins. GSTs are present in eukaryotes and in prokaryotes, where they catalyze a variety of reactions and accept endogenous and xenobiotic substrates. GST is commonly used to create fusion proteins. The tag has the size of 220 amino acids (roughly 26 KDa), which, compared to other tags like the myc- or the FLAG-tag, is quite big. A GST-tag is often used to separate and purify proteins that contain the GST-fusion. GST-fusion proteins can be produced in Escherichia coli, as recombinant proteins.

Form:
Liquid
Buffer:
PBS with 0.02% sodium azide, 50% glycerol, pH7.3.
Storage:
Store at +4°C for short Term,at -20°C for longer term.Avoid repeated freeze and thaw cycles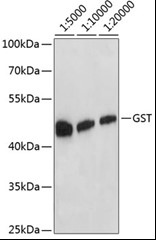 Western blot analysis of over-expressed GST fusion protein in 293 cell using GST-Tag antibody at different dilution. Each lane was loaded with 2 ug cell lysate.
Secondary antibody: HRP Goat Anti-Mouse IgG (H+L) at 1:10,000 dilution.
Blocking buffer: 3% nonfat dry milk in TBST.
Detection: ECL West Pico Plus.
Exposure time: 1s.