Cat Number:
AB-84305
Size:
100ug
Clone:
POLY
Concentration:
1mg/ml
Host:
Rb
Isotype:
IgG
Immunogen:
Recombinant fusion protein containing a sequence corresponding to amino acids 1-120 of human HK2
Reactivity:
Hu, Ms, Rt
Applications:

Western Blot: 1:500 – 1:2000
Immunohistochemistry: 1:50 – 1:200
Immunofluorescence: 1:50 – 1:200

Molecular Weight:
102kDa
Purification:
Aff. Pur.
Synonyms:
HK2;HKII;HXK2;hexokinase-2
Background:

Hexokinases phosphorylate glucose to produce glucose-6-phosphate, the first step in most glucose metabolism pathways. This gene encodes hexokinase 2, the predominant form found in skeletal muscle. It localizes to the outer membrane of mitochondria. Expression of this gene is insulin-responsive, and studies in rat suggest that it is involved in the increased rate of glycolysis seen in rapidly growing cancer cells.

Form:
Liquid
Buffer:
Liquid in PBS containing 0.02% sodium azide, 50% glycerol, Ph7.3.
Storage:
Store at -20°C, and avoid repeat freeze-thaw cycles.
Western blot analysis of extracts of
various cell lines, using HK2 antibody at 1:1000 dilution.
Secondary antibody: HRP Goat Anti-
Rabbit IgG (H+L) at 1:10000
dilution.
Lysates/proteins: 25ug per lane.
Blocking buffer: 3% nonfat dry milk in
TBST.
Immunohistochemistry of paraffinembedded
mouse heart using HK2
antibody at dilution of 1:200
(40x lens).
Immunofluorescence analysis of U2OS cells using HK2 antibody.
Blue: DAPI for nuclear staining.

Review for HK2 Rabbit
Experiment Type Western blot(WB)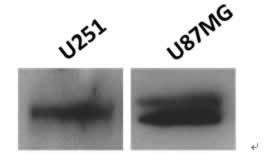 Experiment Type Western blot(WB)
SampleU251,U87MG
Description Western blot analysis of extracts of various cell lines, using HK2 Polyclonal Antibody.
References
References for HK2 Rabbit pAb
Product: HK2 Rabbit pAb Journal:
Toxicology And Applied Pharmacology Application:
WB IF:3.789 Species:Rattus norvegicus
PMID:25151971
Title:N-methylhemeanthidine chloride, a novel Amaryllidaceae alkaloid, inhibits pancreatic cancer cell proliferation via down-regulating AKT activation
Product:HK2 Rabbit pAb
Journal:Nature Communications
Application:WB IF:11.87
Species:Homo sapiens,Mus musculus PMID:32286295
Title: Glycogen metabolism regulates macrophage-mediated acute inflammatory responses
References for HK2 Rabbit pAb
Product:HK2 Rabbit pAb
Journal:Nature communications
Application: WB, IHC IF:11.87 Species: Homo sapiens,Mus musculus PMID:31484922
Title: CD36 inhibits β-catenin/c-myc-mediated glycolysis through ubiquitination of GPC4 to repress colorectal tumorigenesis