HSP70 Rabbit Polyclonal Antibody
Cat Number:
AB-84218
Conjugate:
Unconjugated
Size:
100 ug
Clone:
POLY
Concentration:
1mg/ml
Host:
Rabbit
Isotype:
IgG
Immunogen:
A synthetic peptide corresponding to a sequence within amino acids 500-600 of human HSP70.
Reactivity:
Human, Mouse, Rat
Applications:

Western Blot: 1:1000 – 1:3000
Immunohistochemistry: 1:50 – 1:200
Immunofluorescence: 1:50 – 1:200

Molecular Weight:
70kDa
Purification:
Aff. Pur.
Synonyms:
HSPA1A;HEL-S-103;HSP70-1;HSP70-1A;HSP70.1;HSP7 0I;HSP72;HSPA1;HSP70
Background:

This intronless gene encodes a 70kDa heat shock protein which is a member of the heat shock protein 70 family. In conjuction with other heat shock proteins, this protein stabilizes existing proteins against aggregation and mediates the folding of newly translated proteins in the cytosol and in organelles. It is also involved in the ubiquitin-proteasome pathway through interaction with the AU-rich element RNAbinding protein 1. The gene is located in the major histocompatibility complex class III region, in a cluster with two closely related genes which encode similar proteins.

Form:
Liquid
Buffer:
PBS with 0.02% sodium azide,50% glycerol,pH7.3.
Storage:
Store at -20℃. Avoid freeze / thaw cycles.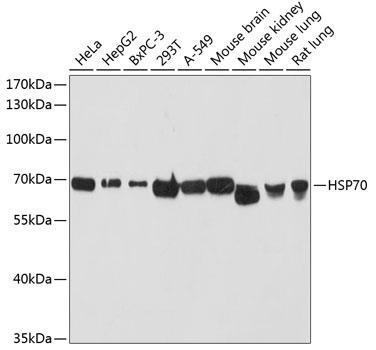 Western blot analysis of extracts of various cell lines, using HSP70 antibody at 1:3000 dilution.
Secondary antibody: HRP Goat Anti-Rabbit IgG (H+L) at 1:10000 dilution.
Lysates/proteins: 25ug per lane.
Blocking buffer: 3% nonfat dry milk in TBST.
Detection: ECL West Pico Plus
Exposure time: 10s.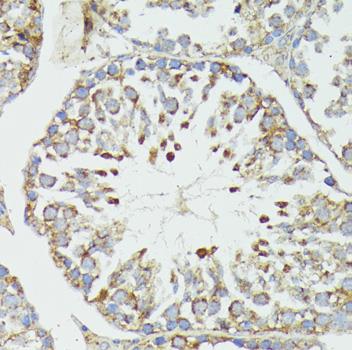 Immunohistochemistry of paraffin embedded mouse testis using HSP70 antibody at dilution of 1:100 (40x lens).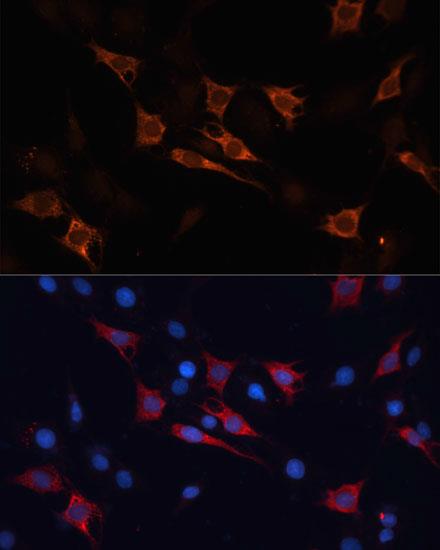 Immunofluorescence analysis of C6 cells using HSP70 Polyclonal Antibody at dilution of 1:100 (40x lens).
Blue: DAPI for nuclear staining.