HSP90 alpha Rabbit Monoclonal Antibody
Cat Number:
MAB-80112
Conjugate:
Unconjugated
Size:
100 ug
Clone:
SJ-90
Concentration:
1mg/ml
Host:
Rabbit
Isotype:
IgG
Immunogen:
A synthetic peptide corresponding to a sequence within amino acids 1-100 of human Hsp90α
Reactivity:
Human, Mouse, Rat
Applications:

Western Blot: 1:500 – 1:2000
Immunoprecipitation: 1:500 – 1:1000

Molecular Weight:
90KDa
Purification:
Purified
Synonyms:
EL52; HEL-S-65p; HSP86; HSP89A; HSP90A; HSP90N; HSPC1; HSPCA; HSPCAL1; HSPCAL4; HSPN; Hsp103; Hsp89; Hsp90; LAP-2; LAP2
Background:

The protein encoded by this gene is an inducible molecular chaperone that functions as a homodimer. The encoded protein aids in the proper folding of specific target proteins by use of an ATPase activity that is modulated by co-chaperones. Two transcript variants encoding different isoforms have been found for this gene.

Form:
Liquid
Buffer:
PBS with 0.02% sodium azide,0.05% BSA,50% glycerol,pH7.3.
Storage:
Store at -20℃. Avoid freeze / thaw cycles.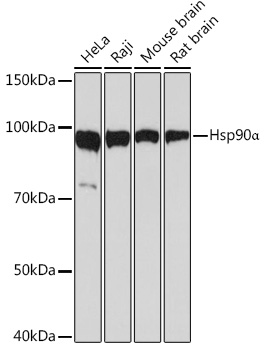 Western blot analysis of extracts of various cell lines, using Hsp90α Rabbit mAb at 1:1000 dilution.
Secondary antibody: HRP Goat Anti-Rabbit IgG (H+L) at 1:10000 dilution.
Lysates/proteins: 25ug per lane.
Blocking buffer: 3% nonfat dry milk in TBST.
Detection: ECL West Pico Plus.
Exposure time: 3s.
Immunoprecipitation analysis of 300ug extracts of 293T cells using 3ug Hsp90α antibody.
Western blot was performed from the immunoprecipitate using Hsp90α antibody at a dilution of 1:1000.
References:
Product:Hsp90α Rabbit mAb
Journal:Cell reports
Application:Western Blot
IF:0
Species:Mus musculus
PMID:36198274
Title:Destabilization of TP53 by USP10 is essential for neonatal autophagy and survival
References:
References for Hsp90α Rabbit mAb
Product:Hsp90α Rabbit mAb
Journal:PeerJ
Application:WB
IF:3.06
Species:Homo sapiens
PMID:36632140
Title:A novel fatty acid metabolism-related gene prognostic signature and candidate drugs for patients with hepatocellular carcinoma – PMC