Cat Number:
AB-83500
Conjugate:
Unconjugated
Size:
100 ug
Clone:
POLY
Concentration:
1mg/ml
Host:
Rb
Isotype:
IgG
Reactivity:
Hu, Ms, Rt
Applications:

Western Blot: 1:500 – 1:1000
Immunohistochemistry: 1:50-1:200.

Molecular Weight:
Calculated MW: 155kDa/156kDa Observed MW: 156kDa
Purification:
Aff. Pur.
Synonyms:
INSR; CD220; HHF5; insulin receptor
Background:

This gene encodes a member of the receptor tyrosine kinase family of proteins. The encoded preproprotein is proteolytically processed to generate alpha and beta subunits that form a heterotetrameric receptor. Binding of insulin or other ligands to this receptor activates the insulin signaling pathway, which regulates glucose uptake and release, as well as the synthesis and storage of carbohydrates, lipids and protein. Mutations in this gene underlie the inherited severe insulin resistance syndromes including type A insulin resistance syndrome, Donohue syndrome and Rabson-Mendenhall syndrome. Alternative splicing results in multiple transcript variants.

Form:
Liquid
Buffer:
Liquid in PBS containing 50% glycerol, 0.5% BSA and 0.02% sodium azide.
Storage:
At +4°C for short term. For longer term store at -20°C, avoid repeat freeze-thaw cycles.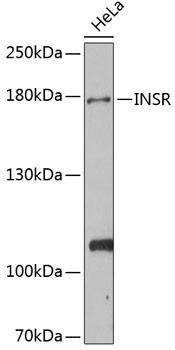 Western blot analysis of extracts of HeLa cells, using INSR antibody at 1:1000 dilution.
Secondary antibody: HRP Goat Anti-Rabbit IgG (H+L) at 1:10000 dilution.
Lysates/proteins: 25ug per lane.
Blocking buffer: 3% nonfat dry milk in TBST.
Detection: ECL West Femto Plus Kit .
Exposure time: 120s.