Cat Number:
AB-83616
Conjugate:
Unconjugated
Size:
100μg
Clone:
POLY
Concentration:
1mg/ml
Host:
Rb
Isotype:
IgG
Immunogen:
Recombinant fusion protein containing a sequence corresponding to amino acids 19-178 of human IL10.
Reactivity:
Hu, Ms, Rt,
Applications:

Western Blot: 1:500 – 1:2000
Immunohistochemistry: 1:50 – 1:100

Molecular Weight:
22kDa
Purification:
Aff. Pur.
Synonyms:
CSIF;GVHDS;IL-10;IL10A;TGIF;IL10
Background:

The protein encoded by this gene is a cytokine produced primarily by monocytes and to a lesser extent by lymphocytes. This cytokine has pleiotropic effects in immunoregulation and inflammation. It down-regulates the expression of Th1 cytokines, MHC class II Ags, and costimulatory molecules on macrophages. It also enhances B cell survival, proliferation, and antibody production. This cytokine can block NF-kappa B activity, and is involved in the regulation of the JAK-STAT signaling pathway. Knockout studies in mice suggested the function of this cytokine as an essential immunoregulator in the intestinal tract. Mutations in this gene are associated with an increased susceptibility to HIV-1 infection and rheumatoid arthritis.

Form:
Liquid
Buffer:
PBS with 0.02% sodium azide,50% glycerol,pH7.3.
Storage:
Store at -20℃. Avoid freeze / thaw cycles.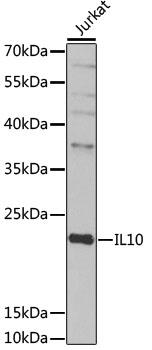 Western blot analysis of extracts of
Jurkat cells, using IL10 antibody
at 1:1000 dilution.
Secondary antibody: HRP Goat Anti-
Rabbit IgG (H+L) at 1:10000
dilution.
Lysates/proteins: 25ug per lane.
Blocking buffer: 3% nonfat dry milk in
TBST. Detection: ECL West Pico Plus.
Exposure time: 10s.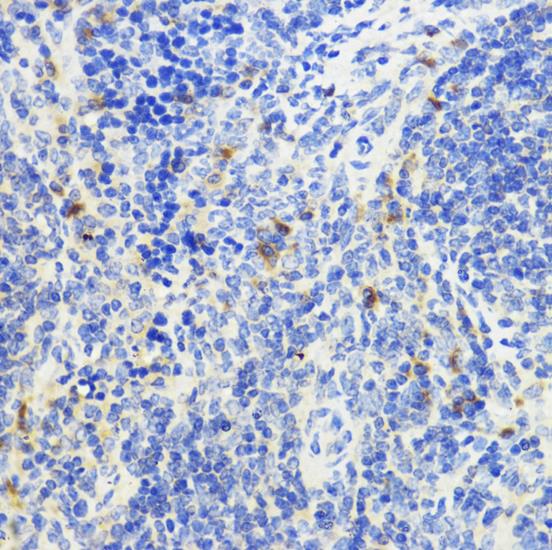 Experiment Type Western blot (WB)
References
References for IL10 Rabbit pAb
Product: IL10 Rabbit pAb
Journal: International journal of molecular sciences
Application: WB IF: 3.68
Species:Rattus norvegicus
PMID:30678337
Title:Ferulic Acid Improves Depressive-Like Behavior in Prenatally-Stressed Offspring Rats via Anti-Inflammatory Activity and HPA Axis.
Product:IL10 Rabbit pAb
Journal:International immunopharmacology
Application:WB IF:3.11
Species:Mus musculus
PMID:30952101 Title:
The role of netrin-1 in the mouse cornea during Aspergillus fumigatus infection.
Product:IL10 Rabbit pAb
Journal:Scientific Reports
Application:WB
IF:4.01 Species:Mus musculus
PMID:32034203
Title:TNF-α and INF-γ primed canine stem cell-derived extracellular vesicles alleviate experimental murine colitis
Product:IL10 Rabbit pAb
Journal:Cellular and molecular neurobiology
Application:WB IF:3.81
Species:Mus musculus
PMID:31140018
Title:Neuroprotection of Resveratrol Against Focal Cerebral Ischemia/Reperfusion Injury in Mice Through a Mechanism Targeting Gut-Brain Axis.
Product:IL10 Rabbit pAb
Journal:Veterinary microbiology
Application:WB IF:2.52
Species: Cynoglossus semilaevis
PMID: 30827402
Title: In vivo cellular and molecular study on duck spleen infected by duck Tembusu virus.
Product:IL10 Rabbit pAb
Journal:Cell Proliferation
Application:WB IF:5.039
Species:Homo sapiens,Mus musculus
PMID:31418947
Title:Inhibition of CREB-mediated ZO-1 and Activation of NF-κB-induced IL-6 by Colonic Epithelial MCT4 Destroys Intestinal Barrier Function.
Product:IL10 Rabbit pAb
Journal:Molecular Therapy-Nucleic Acids
Application:WB IF:5.919
Species:Homo sapiens
PMID:32059338
Title: Identification of the Regulatory Role of lncRNA SNHG16 in Myasthenia Gravis by Constructing a Competing Endogenous RNA Network.