Cat Number:
AB-84439
Conjugate:
Unconjugated
Size:
100 ug
Clone:
POLY
Concentration:
1mg/ml
Host:
Rb
Isotype:
IgG
Immunogen:
Recombinant fusion protein containing a sequence corresponding to amino acids14-126 of human MNF1.
Reactivity:
Human, Mouse, Rat
Applications:

Western Blot: 1:500 – 1:2000
Immunohistochemistry: 1:50 – 1:200
Immunofluorescence / Immunocytochemistry 1:50 – 1:200

Molecular Weight:
15KDa
Purification:
Affinity purification
Synonyms:
LC3B;ATG8F;MAP1LC3B-a;MAP1A/1BLC3;MAP1LC3B;LC3A/LC3B
Background:

The product of this gene is a subunit of neuronal microtubule-associated MAP1A andMAP1B proteins, which are involved in microtubule assembly and important for
neurogenesis. Studies on the rat homolog implicate a role for this gene in autophagy, a process that involves the bulk degradation of cytoplasmic component.

Form:
Liquid
Buffer:
PBS with 0.01% thiomersal,50% glycerol,pH7.3.
Storage:
Store at -20℃. Avoid freeze / thaw cycles.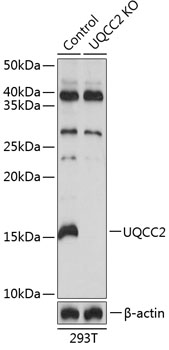 Western blot analysis of extracts from normal (control) and UQCC2 knockout (KO) 293T cells, using
MNF1 antibody at 1:1000 dilution.
Secondary antibody: HRP Goat Anti-Rabbit IgG (H+L)at 1:10000 dilution.
Lysates/proteins: 25ug per lane.
Blocking buffer: 3% nonfat dry milk in TBST.
Detection: ECL West Pico Plus.
Exposure time: 1s.