Cat Number:
AB-84217
Conjugate:
Unconjugated
Size:
100 ug
Clone:
POLY
Concentration:
1mg/ml
Host:
Rb
Isotype:
IgG
Immunogen:
Recombinant fusion protein containing a sequence corresponding to amino acids 19-241 of human NGF.
Reactivity:
Hu, Ms, Rt
Applications:

Western Blot: 1:500 – 1:1000
Immunohistochemistry: 1:50 – 1:100
Immunofluorescence: 1:50 – 1:100

Molecular Weight:
30kDa
Purification:
Aff. Pur.
Synonyms:
NGF;Beta-NGF;HSAN5;NGFB
Background:

This gene is a member of the NGF-beta family and encodes a secreted protein which homodimerizes and is incorporated into a larger complex. This protein has nerve growth stimulating activity and the complex is involved in the regulation of growth and the differentiation of sympathetic and certain sensory neurons. Mutations in this gene have been associated with hereditary sensory and autonomic neuropathy, type 5 (HSAN5), and dysregulation of this gene's expression is associated with allergic rhinitis.

Form:
Liquid
Buffer:
PBS with 0.02% sodium azide, 50% glycerol, pH7.3.
Storage:
Store at -20℃. Avoid freeze / thaw cycles.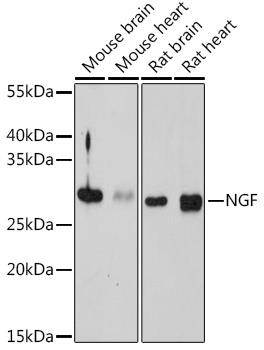 Western blot analysis of extracts of
various cell lines, using NGF antibody
at 1:1000 dilution.
Secondary antibody: HRP Goat Anti-
Rabbit IgG (H+L) at 1:10000
dilution.
Lysates/proteins: 25ug per lane.
Blocking buffer: 3% nonfat dry milk in
TBST.
Detection: ECL West Pico Plus.
Exposure time: 180s.
Immunofluorescence analysis of
U-251MG cells using NGF antibody
at dilution of 1:100 (40x
lens). Blue: DAPI for nuclear staining.