Cat Number:
AB-83547
Conjugate:
Unconjugated
Size:
100 ug
Clone:
POLY
Concentration:
1mg/ml
Host:
Rb
Isotype:
IgG
Immunogen:
Synthesized peptide derived from human NOS1 around the nonphosphorylation site of S852. Immunogen Region: 790-870 aa
Reactivity:
Hu, Ms, Rt
Applications:

Western Blot: 1:500-1:2000
Immunohistochemistry: 1:100-1:300
Immunofluorescence: 1:200-1:1000
ELISA: 1:5000

Molecular Weight:
120kDa
Purification:
The antibody was affinity-purified from rabbit antiserum by affinitychromatography using epitope-specific immunogen.
Synonyms:
Nitric oxide synthase, brain Constitutive NOS NC-NOS NOS type I Neuronal NOS N-NOS nNOS Peptidyl-cysteine S-nitrosylase NOS1 bNOS
Background:

Produces nitric oxide (NO) which is a messenger molecule with diverse functions throughout the body. In the brain and peripheral nervous system, NO displays many properties of a neurotransmitter. Probably has nitrosylase activity and mediates cysteine S-nitrosylation of cytoplasmic target proteins such SRR. Specificity: NOS1 Polyclonal Antibody detects endogenous levels of NOS1 protein. Tissue Specificity: Isoform 1 is ubiquitously expressed: detected in skeletal muscle and brain, also in testis, lung and kidney, and at low levels in heart, adrenal gland and retina. Not detected in the platelets. Isoform 3 is expressed only in testis. Isoform 4 is detected in testis, skeletal muscle, lung, and kidney, at low levels in the brain, but not in the heart and adrenal gland.

Form:
Liquid
Buffer:
Liquid in PBS containing 50% glycerol, 0.5% BSA and 0.02% sodium azide.
Storage:
Store at -20°C, and avoid repeat freeze-thaw cycles.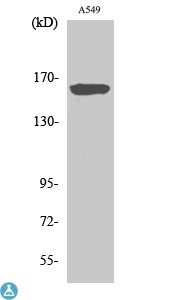 Western Blot (WB) analysis of specific cells using NOS1 polyclonal antibody.