Cat Number:
AB-90171
Conjugate:
Unconjugated
Size:
100 ug
Clone:
POLY
Concentration:
1mg/ml
Host:
Rb
Isotype:
IgG
Immunogen:
A synthetic peptide corresponding to a sequence at the C-terminus of human nNOS(neuronal)(1418-1434aa IAFIEESKKDTDEVFSS), identical to the related mouse and rat sequences.
Reactivity:
Hu, Ms, Rt
Applications:

Western blot: 1:1000-1:2000
Immunohistochemistry (Paraffin-embedded Section): 1:100-1:200

Purification:
Aff. Pur.
Background:

Nitric oxide synthase 1 (neuronal), also known as NOS1, is an enzyme that in humans is encoded by the NOS1 gene. The protein encoded by this gene belongs to the family of nitric oxide synthases, which synthesize nitric oxide from L-arginine. Nitric oxide is a reactive free radical, which acts as a biologic mediator in several processes, including neurotransmission, and antimicrobial and antitumoral activities. In the brain and peripheral nervous system, nitric oxide displays many properties of a neurotransmitter, and has been implicated in neurotoxicity associated with stroke and neurodegenerative diseases, neural regulation of smooth muscle, including peristalsis, and penile erection. This protein is ubiquitously expressed, with high level of expression in skeletal muscle. Multiple transcript variants that differ in the 5′ UTR have been described for this gene but the full-length nature of these transcripts is not known. Additionally, alternatively spliced transcript variants encoding different isoforms (some testis-specific) have been found for this gene.

Form:
Liquid
Buffer:
Each vial contains 5mg BSA, 0.9mg NaCl, 0.2mg Na2HPO4, 0.05mg Thimerosal, 0.05mg NaN3.
Storage:
At -20°C for one year.. Avoid repeated freezing and thawing.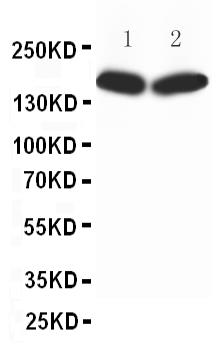 Anti-nNOS(neuronal) antibody, Western blotting
All lanes: Anti nNOS(neuronal) at 0.5ug/ml
Lane 1: Rat Brain Tissue Lysate at 50ug
Lane 2: MCF-7 Whole Cell Lysate at 40ug
Predicted bind size: 160KD
Observed bind size: 160KD
Anti-nNOS(neuronal) antibody, IHC(P)
IHC(P): Rat Brain Tissue