Cat Number:
AB-83900
Size:
100 ug
Clone:
POLY
Concentration:
1mg/ml
Host:
Rb
Isotype:
IgG
Immunogen:
Recombinant fusion protein containing a sequence corresponding to amino acids 304-603 of human PLK1
Reactivity:
Hu, Ms, Rt
Applications:

Western Blot: 1:500 -1:1000
Immunofluorescence: 1:50 – 1:100

Molecular:
68kDa
Purification:
Aff. Pur.
Synonyms:
PLK1; PLK; STPK13; polo like kinase 1
Background:

The Ser/Thr protein kinase encoded by this gene belongs to the CDC5/Polo subfamily. It is highly expressed during mitosis and elevated levels are found in many different types of cancer. Depletion of this protein in cancer cells dramatically inhibited cell proliferation and induced apoptosis; hence, it is a target for cancer therapy.

Form:
Liquid
Buffer:
PBS with 0.02% sodium azide, 50% glycerol, pH7.3.
Storage:
Store at -20℃. Avoid freeze / thaw cycles.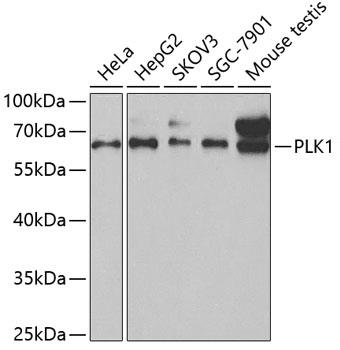 Western blot analysis of extracts of various cell lines, using PLK1 antibody at 1:1000 dilution.
Secondary antibody: HRP Goat Anti-Rabbit IgG (H+L) at 1:10000 dilution.
Lysates/proteins: 25ug per lane.
Blocking buffer: 3% nonfat dry milk in TBST.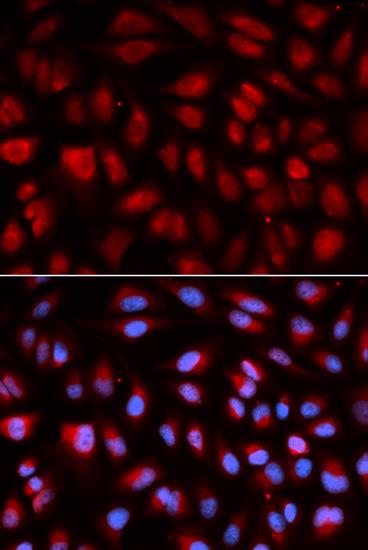 Immunofluorescence analysis of U2OS cells using PLK1 antibody. Blue: DAPI for nuclear staining.