Cat Number:
MAB-90964
Conjugate:
Unconjugated
Size:
100 ul
Clone:
10F10
Concentration:
1mg/ml
Host:
Ms
Isotype:
IgG1
Immunogen:
Purified recombinant fragment of human SOX2 expressed in E. Coli.
Reactivity:
Hu
Applications:

Western Bloting: 1/250 – 1/1000.
Immunohistochemistry: 1/100 – 1/500.
Immunofluorescence: 1/100 – 1/500.
ELISA: Propose dilution 1/5000.
Not yet tested in other applications.
Determining optimal working dilutions by titration test.

Molecular Weight:
Calculated MW: 34kDa Observed MW: ~65kDa
Purification:
Aff. Pur.
Background:

Transcription factor that forms a trimeric complex with OCT4 on DNA and controls the expression of a number of genes involved in embryonic development such as YES1, FGF4, UTF1 and ZFP206. Critical for early embryogenesis and for embryonic stem cell pluripotency.

Form:
Liquid
Buffer:
Ascitic fluid containing 0.03% sodium azide.
Storage:
Store at 4°, for long term storage, store at -20°.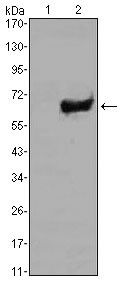 Figure 1: Western blot analysis using SOX2 mAb against HEK293 (1) and SOX2-hIgGFc transfected HEK293 (2) cell lysate.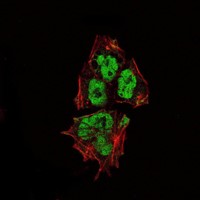 Immunofluorescence analysis of NTERA-2 cells using SOX2 mouse mAb (green). Red: Actin filaments have been labeled with Alexa Fluor-555 phalloidin.

Immunohistochemical analysis of paraffin-embedded lung cancer tissues (left) and esophageal cancer tissues (right) using SOX2 mouse mAb with DAB staining