Cat Number:
AB-84155
Conjugate:
Unconjugated
Size:
100 ug
Clone:
poly
Concentration:
1mg/ml
Host:
Rb
Isotype:
IgG
Immunogen:
Synaptophysin
Reactivity:
Hu, Ms, Rt
Applications:

Elisa
Western Blot 1:500-1:3000
Immunoprecipitation: 1:500-1:2000
Immunohistochemistry (paraffin) 1:50 – 1:500
Immunofluorescence: 1:10 – 1:100

Molecular Weight:
40kDa
Purification:
Aff. Pur.
Background:

Synaptophysin (SYP), also known as major synaptic vesicle protein p38) is a 38-kDa integral membrane glycoprotein that regulates synaptic vesicle endocytosis. It is the most abundant synaptic vesicle protein by mass. Synaptophysin is present in neuroendocrine cells and neurons that participate in synaptic transmission. Synaptophysin is a useful marker for identification of neuroendocrine cells and neoplasms.

Form:
Liquid
Buffer:
At +4°C for short term. For longer term store at -20°C, avoid repeat freeze-thaw cycles
Storage:
Store at -20℃. Avoid freeze / thaw cycles.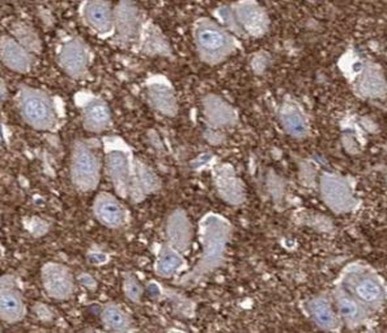 Immunohistochemistry of paraffin-embedded human pancreas tissue slide 1:200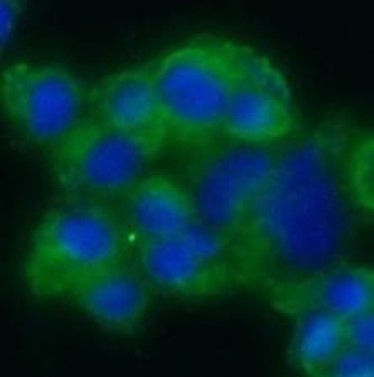 Immunofluorescent analysis of PC-12 cells using (Synaptophysin Antibody) at dilution of 1:25 and Alexa Fluor 488-conjugated Goat Anti-Rabbit IgG(H+L)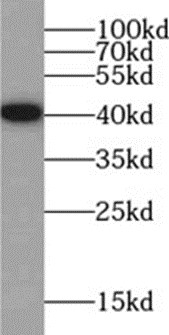 Human brain tissue were subjected to SDS PAGE followed by western blot with a conc. 1:1000