Cat Number:
MAB-94609
Conjugate:
Unconjugated
Size:
100 ug
Clone:
EPR15581-54
Concentration:
1mg/ml
Host:
Rb
Isotype:
IgG
Immunogen:
Recombinant fusion protein containing a sequence corresponding to amino acids 20-145 of human TOM20 (NP_055580.1).
Reactivity:
Hu, Ms, Rt
Applications:

Western Blot: 1:500 – 1:2000
Immunohistochemistry: 1:50 – 1:200
Immunofluorescence: 1:20 – 1:50
Immunoprecipitation: 1:50 – 1:200

Molecular Weight:
16kDa
Purification:
Aff. Pur.
Synonyms:
TOMM20;MAS20;MOM19;TOM20
Form:
Liquid
Buffer:
PBS with 0.02% sodium azide,50% glycerol,pH7.3.
Storage:
Store at -20℃. Avoid freeze / thaw cycles.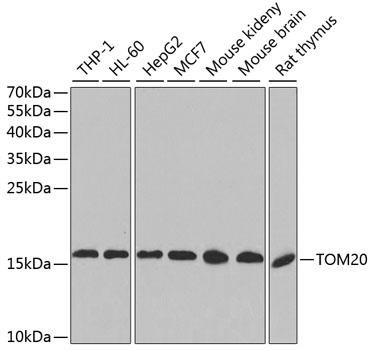 Western blot analysis of extracts of various cell lines, using TOM20 antibody at 1:1000
dilution.
Secondary antibody: HRP Goat Anti-Rabbit IgG (H+L) at 1:10000 dilution.
Lysates/proteins: 25ug per lane.
Blocking buffer: 3% nonfat dry milk in TBST.
Detection: ECL West Pico Plus.
Exposure time: 60s.
Immunoprecipitation analysis of 200ug extracts of HeLa cells using 3ug TOM20 antibody.
Western blot was performed from the immunoprecipitate using TOM20 antibody at a dilution of 1:1000.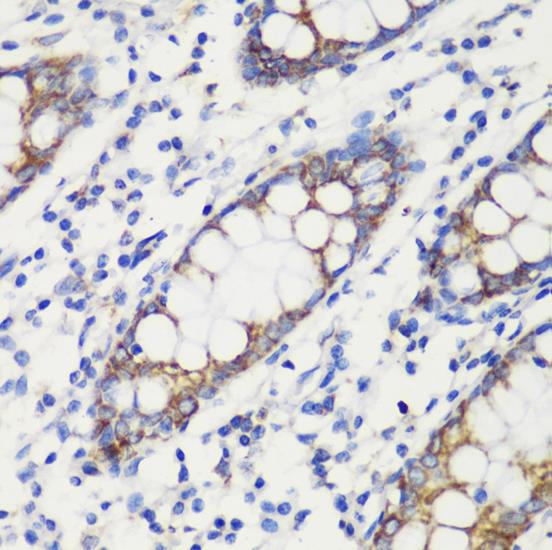 Immunohistochemistry of paraffin embedded human colon using TOM20 antibody at dilution of 1:100 (40x lens).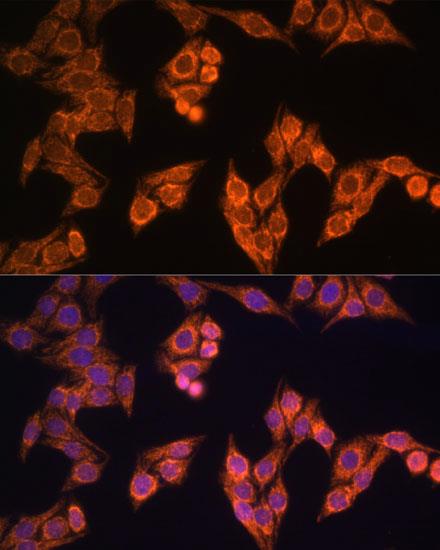 Immunofluorescence analysis of HeLa cells using TOM20 antibody at dilution of 1:100.
Blue: DAPI for nuclear staining.

Review for TOM20 Rabbit mAb
Experiment Type Immunofluorescence (IF)
Sample: Mouse brown fat cells
References
References for TOM20 Rabbit mAb
Product: TOM20 Rabbit mAb
Journal:Autophagy
Application:WB
IF:11.059
Species:Homo sapiens
PMID:29969932
Title:PTENα regulates mitophagy and maintains mitochondrial quality control.
References for TOM20 Rabbit mAb
Product: TOM20 Rabbit mAb
Journal: Cell Metabolism
Application: IHC
IF: 22.41
Species: Mus musculus
PMID: 31761563
Title: Fructose-1,6-Bisphosphatase 2 Inhibits Sarcoma Progression by Restraining Mitochondrial Biogenesis