Cat Number:
AB-84198
Size:
100 ug
Clone:
POLY
Concentration:
1mg/ml
Host:
Rb
Isotype:
IgG
Immunogen:
A synthetic peptide corresponding to a sequence within amino acids 300 to the C-terminus of human TSG101.
Reactivity:
Hu, Ms,Rt
Applications:

Western Blot: 1:200 – 1:2000
Immunohistochemistry (paraffin-embedded tissues): 1:50 – 1:200
Immunofluorescence: 1:50 – 1:200
Immunoprecipitation: 1:20 – 1:50

Molecular:
48kDa
Purification:
Aff. Pur.
Synonyms:
TSG10;VPS23;TSG101 / VPS23;TSG101
Background:

The protein encoded by this gene belongs to a group of apparently inactive homologs of ubiquitin-conjugating enzymes. The gene product contains a coiled-coil domain that interacts with stathmin, a cytosolic phosphoprotein implicated in tumorigenesis. The protein may play a role in cell growth and differentiation and act as a negative growth regulator. In vitro steady-state expression of this tumor susceptibility gene appears to be important for maintenance of genomic stability and cell cycle regulation. Mutations and alternative splicing in this gene occur in high frequency in breast cancer and suggest that defects occur during breast cancer tumorigenesis and/or progression.

Form:
Liquid
Buffer:
PBS with 0.02% sodium azide, 50% glycerol, pH7.3.
Storage:
Store at -20℃. Avoid freeze / thaw cycles.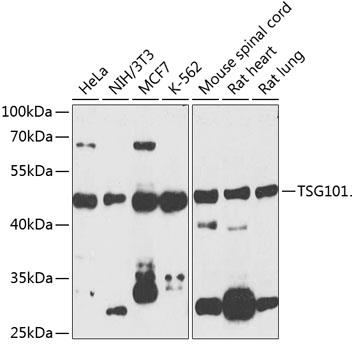 Western blot analysis of extracts of
various cell lines, using TSG101
antibody at 1:1000 dilution.
Secondary antibody: HRP Goat Anti-
Rabbit IgG (H+L) at 1:10000
dilution.
Lysates/proteins: 25ug per lane.
Blocking buffer: 3% nonfat dry milk in
TBST.
Detection: ECL Basic Kit.
Exposure time: 60s.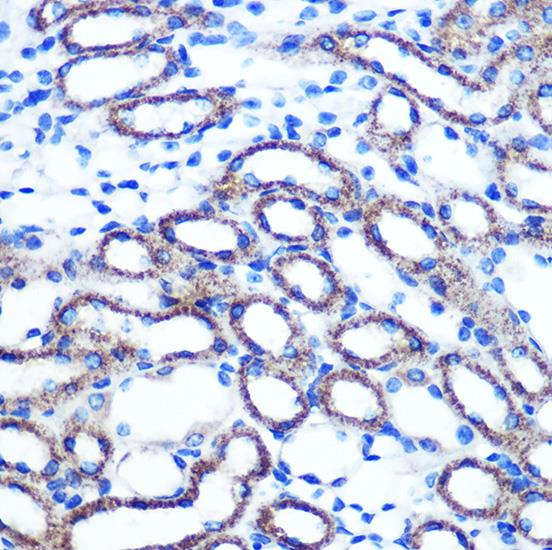 Immunohistochemistry of paraffin embedded
Mouse kidney using
TSG101 antibody at dilution
of 1:100 (40x lens).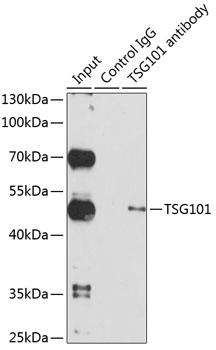 Immunoprecipitation analysis of 150ug
extracts of HeLa cells using 3ug
TSG101 antibody.
Western blot was performed
from the immunoprecipitate using TSG101
antibody at a dilition of 1:1000.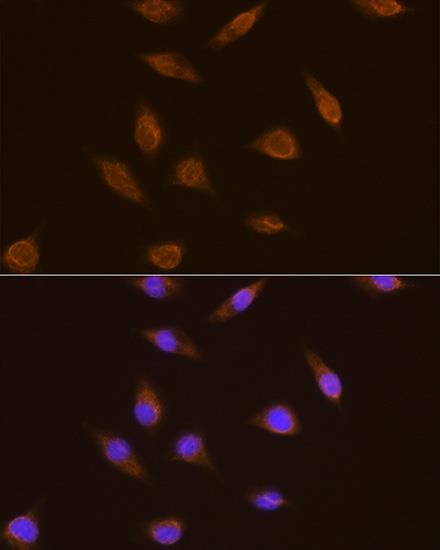 Immunofluorescence analysis of L929
cells using TSG101 antibody
at dilution of 1:100.
Blue: DAPI for nuclear staining.