Cat Number:
AB-83881
Size:
100 ug
Clone:
POLY
Concentration:
1mg/ml
Host:
Rb
Isotype:
IgG
Immunogen:
Synthetic peptide of Human TSG101
Reactivity:
Hu, Ms,Rt
Applications:

Western Blot : 1:500 – 1:2000
Immunohistochemistry: 1:50 – 1:100

Molecular Weight:
44kDa
Purification:
Aff. Pur.
Synonyms:
TSG101; TSG10; VPS23; tumor susceptibility 101
Background:

The protein encoded by this gene belongs to a group of apparently inactive homologs of ubiquitin-conjugating enzymes. The gene product contains a coiled-coil domain that interacts with stathmin, a cytosolic phosphoprotein implicated in tumorigenesis. The protein may play a role in cell growth and differentiation and act as a negative growth regulator. In vitro steady-state expression of this tumor susceptibility gene appears to be important for maintenance of genomic stability and cell cycle regulation. Mutations and alternative splicing in this gene occur in high frequency in breast cancer and suggest that defects occur during breast cancer tumorigenesis and/or progression..

Form:
Liquid
Buffer:
PBS with 0.02% sodium azide, 50% glycerol, pH7.3.
Storage:
At +4°C for short term. At -20°C for longer term. Avoid freeze / thaw cycles.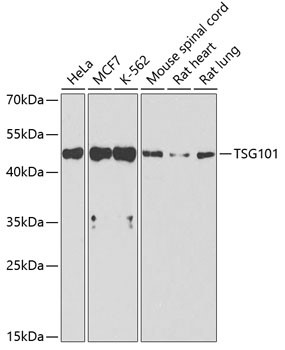 Western blot analysis of extracts of various cell line, using TSG101 at 1:1,000 dilution.
Secondary antibody: HRP Goat Anti-Rabbit IgG (H+L) at 1:10,000 dilution.
Lysates/proteins: 25ug per lane.
Blocking buffer: 3% nonfat dry milk in TBST.
Detection: ECL West Pico Kit
Exposure time: 40 s.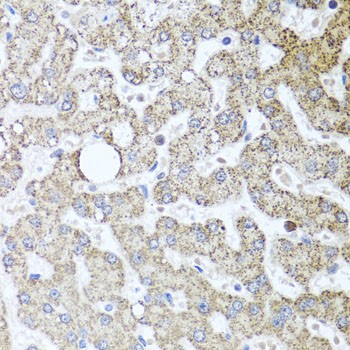 Immunohistochemistry of paraffin-embedded human liver injury using TSG101 antibody at dilution of 1:100
Review for TSG101 Polyclonal Antibody
Cat.n. AB-83881
Application Western blot(WB)
Sample HEK293T
Loading Amount 15 ug
Dilution: 1:1000
Incubation time: over night
Temperature: 4 ℃
Exposure: 30s
Observed Band: 130 kDa
Remarks: Western Blot stained for TSG101 on HEK 293-derived RVG-exosomes 1:1000 .