Cat Number:
AB-83887
Conjugate:
Unconjugated
Size:
100 ug
Clone:
POLY
Concentration:
1mg/ml
Host:
Rb
Isotype:
IgG
Immunogen:
Recombinant fusion protein containing a sequence corresponding to amino acids 1-160 of human ACTR2
Reactivity:
Hu, Ms, Rt
Applications:

Western Blot: 1:500- 1: 1000
Immunohistochemistry: 1:50 – 1:100
Immunofluorescence: 1:50 – 1:100

Molecular:
44/45kDa
Purification:
Aff. Pur.
Synonyms:
ACTR2; ARP2; actin-related protein 2
Background:

The specific function of this gene has not yet been determined; however, the protein it encodes is known to be a major constituent of the ARP2/3 complex. This complex is located at the cell surface and is essential to cell shape and motility through lamellipodial actin assembly and protrusion. Two transcript variants encoding different isoforms have been found for this gene.

Form:
Liquid
Buffer:
PBS with 0.02% sodium azide, 50% glycerol, pH7.3.
Western blot analysis of extracts of various cell lines, using ACTR2 antibody at a dilution of 1:500.
Secondary antibody: HRP Goat Anti-Rabbit IgG (H+L) at 1:10,000 dilution.
Lysates/proteins: 25ug per lane.
Blocking buffer: 3% nonfat dry milk in TBST.
Detection: ECL West Pico Plus.
Exposure time: 90s.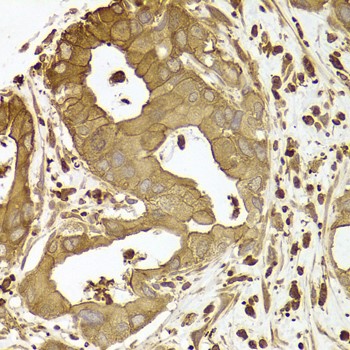 Immunohistochemistry of paraffin-embedded human liver cancer using ACTR2 antibody – dilution 1:100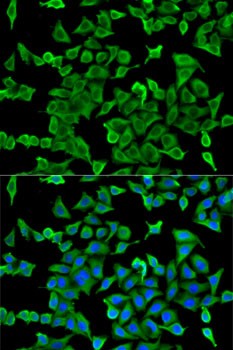 Immunofluorescence analysis of U2OS cells using ACTR2 antibody . Blue: DAPI for nuclear staining.