Cat Number:
AB-81822
Conjugate:
Unconjugated
Size:
100 ug
Clone:
POLY
Concentration:
1mg/ml
Host:
Rb
Isotype:
IgG
Immunogen:
Synthesized peptide derived from human Bcl-2 around the nonphosphorylation site of T69. Immunogen Region 20-100 aa.
Reactivity:
Hu, Ms, Rt
Applications:

WB: 1:1000-1:2000
IHC: 1:100-1:300
IF: 1:200-1:1000
ELISA 1:10000

Molecular Weight:
26 kDa
Purification:
Aff. Pur.
Background:

Suppresses apoptosis in a variety of cell systems including factor-dependent lymphohematopoietic and neural cells. Regulates cell death by controlling the mitochondrial membrane permeability. Appears to function in a feedback loop system with caspases. Inhibits caspase activity either by preventing the release of cytochrome c from the mitochondria and/or by binding to the apoptosis activating factor (APAF-1). May attenuate inflammation by impairing NLRP1-inflammasome activation, hence CASP1 activation and IL1B release .

Form:
Liquid
Buffer:
Liquid in PBS containing 50% glycerol, 0.5% BSA and 0.02% sodium azide.
Storage:
Store at -20°C,and avoid repeat freeze-thaw cycles.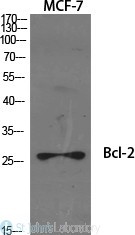 Western Blot (WB) analysis of specific cells using Bcl-2 Polyclonal Antibody.