Cat Number:
MAB-94607
Size:
100μg
Clone:
1H11
Concentration:
1mg/ml
Host:
Ms
Isotype:
IgG
Immunogen:
Purified recombinant fragment of human Caspase-8 expressed in E. Coli.
Reactivity:
Ms, Rt, Hu, Mk
Applications:

Western Blot: 1:500-1:2000
Immunohistochemistry: 1:200-1:1000
Flow Cytometry: 1:200-1:400
ELISA: 1:10000

Purification:
Aff. Pur.
Synonyms:
Anti-Caspase-8 antibodyAnti-Casp-8 antibodyAnti-Apoptotic Cysteine Protease antibodyAnti-Apoptotic Protease Mch-5 antibodyAnti-Cap4 antibodyAnti-Fadd-Homologous Ice/Ced-3-Like Protease antibodyAnti-Fadd- Like Ice antibodyAnti-Flice antibodyAnti-Ice-Like Apoptotic Protease 5 antibodyAnti-Mort1-Associated Ced-3 Homolog antibodyAnti-Mach [Cleaved Into-Caspase-8 Subunit P18-Caspase-8 Subunit P10] antibodyAnti- CASP8 MCH5 antibody
Background:

Specificity: Caspase-8 monoclonal antibody detects endogenous levels of Caspase-8 protein. Tissue Specificity: Isoform 1, isoform 5 and isoform 7 are expressed in a wide variety of tissues. Highest expression in peripheral blood leukocytes, spleen, thymus and liver. Barely detectable in brain, testis and skeletal muscle.

Form:
Liquid
Buffer:
PBS with 0.02% sodium azide and 50% glycerol pH 7.3
Storage:
Storage-20℃ for 12 months (Avoid repeated freeze / thaw cycles.) T483
Western Blot (WB) analysis using Caspase-8 Monoclonal Antibody against HeLa (1), Jurkat (2), THP-1 (3), NIH/3T3 (4), Cos7 (5) and PC-12 (6) cell lysate.
Immunohistochemistry (IHC) analysis of paraffin-embedded colon cancer tissues with DAB staining using Caspase-8 Monoclonal Antibody.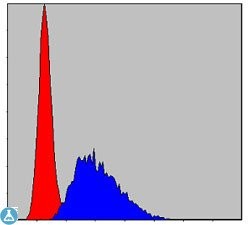 Flow cytometric (FCM) analysis of NIH/3T3 cells using Caspase-8 Monoclonal Antibody (blue) and negative control (red).
ELISA analysis of Caspase-8 antibody.