Cat Number:
AB-84279
Size:
100 ug
Clone:
POLY
Concentration:
1mg/ml
Host:
Rb
Isotype:
IgG
Immunogen:
Synthesized peptide derived from human FAK around the nonphosphorylation site of Y397.
Reactivity:
Hu,Ms,Rt
Applications:

Western Blot: 1:500-1:2000
Immunohistochemistry: 1:100-1:300
Immunofluorescence: 1:200-1:1000
ELISA: 1:40000

Molecular:
125/119kDa
Purification:
The antibody was affinity-purified from rabbit antiserum by affinitychromatography using epitope-specific immunogen.
Synonyms:
Focal adhesion kinase 1 FADK 1 Focal adhesion kinase-related nonkinase FRNK Protein phosphatase 1 regulatory subunit 71 PPP1R71 Protein-tyrosine kinase 2 p125FAK pp125FAK
Background:

Specificity: FAK Polyclonal Antibody detects endogenous levels of FAK protein. Tissue Specificity: Detected in B and T-lymphocytes. Isoform 1 and isoform 6 are detected in lung fibroblasts (at protein level). Ubiquitous.

Form:
Liquid
Buffer:
Liquid in PBS containing 50% glycerol, 0.5% BSA and 0.02% sodium azide.
Storage:
Store at -20℃. Avoid freeze / thaw cycles.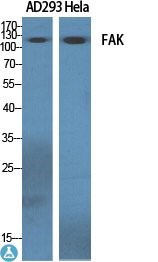 Western Blot (WB) analysis of specific cells using FAK polyclonal antibody.