Cat Number:
AB-84235
Conjugate:
Unconjugated
Size:
Hu, Ms, Rt
Clone:
POLY
Concentration:
1mg/ml
Host:
Rb
Isotype:
IgG
Immunogen:
Synthesized peptide derived from human GABAA Rdelta range
Reactivity:
100ug
Applications:

Western Blot: 1:500-1:2000
Immunohistochemistry: 1:100-1:300
ELISA 1:10000

Molecular Weight:
51kDa
Purification:
Aff. Pur.The antibody was affinity-purified from rabbit antiserum by affinity chromatography using epitope-specific immunogen.
Synonyms:
Gamma-aminobutyric acid receptor subunit delta GABA A receptor subunit Delta
Background:

GABA, the major inhibitory neurotransmitter in the vertebrate brain, mediates neuronal inhibition by binding to the GABA/benzodiazepine receptor and opening an integral chloride channel.

Form:
Liquid
Buffer:
Liquid in PBS containing 50% glycerol, 0.5% BSA and 0.02% sodium azide.
Storage:
Store at -20℃. Avoid freeze / thaw cycles.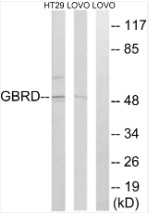 Lysates from LOVO and HT-29 cells.
The lane on the right is blocked
with the synthesized peptide.