Cat Number:
AB-84328
Conjugate:
Unconjugated
Size:
100ug
Clone:
POLY
Concentration:
1mg/ml
Host:
Rb
Isotype:
IgG
Immunogen:
Recombinant fusion protein containing a sequence corresponding to amino acids 1-298 of human GOLPH3.
Reactivity:
Hu, Ms, Rt
Applications:

Western Blot: 1:500 – 1:2000
Immunohistochemistry: 1:100 – 1:200
Immunofluorescence: 1:50 – 1:200

Molecular:
37kDa
Purification:
Aff. Pur.
Synonyms:
GOLPH3;GOPP1;GPP34;MIDAS;Vps74
Background:

The Golgi complex plays a key role in the sorting and modification of proteins exported from the endoplasmic reticulum. The protein encoded by this gene is a peripheral membrane protein of the Golgi stack and may have a regulatory role in Golgi trafficking. Several alternatively spliced transcript variants of this gene have been described, but the full-length nature of these variants has not been determined.

Form:
Liquid
Buffer:
PBS with 0.02% sodium azide,50% glycerol,pH7.3.
Storage:
Store at -20℃. Avoid freeze / thaw cycles.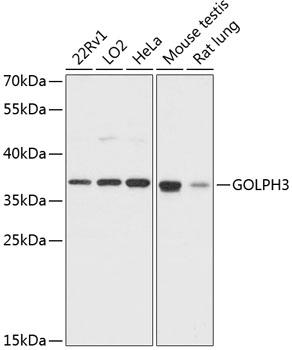 Western blot analysis of extracts of various cell lines, using GOLPH3 antibody at 1:3000
dilution.
Secondary antibody: HRP Goat Anti-Rabbit IgG (H+L) at 1:10000 dilution.
Lysates/proteins: 25ug per lane.
Blocking buffer: 3% nonfat dry milk in TBST.
Detection: ECL West Pico Plus.
Exposure time: 15s.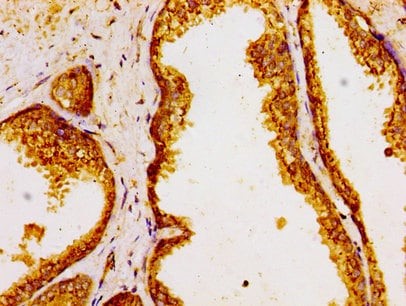 Immunohistochemistry Paraffin-embedded human prostate cancer tissue stained for GOLPH3/MIDAS using at 1:100 dilution in immunohistochemical analysis.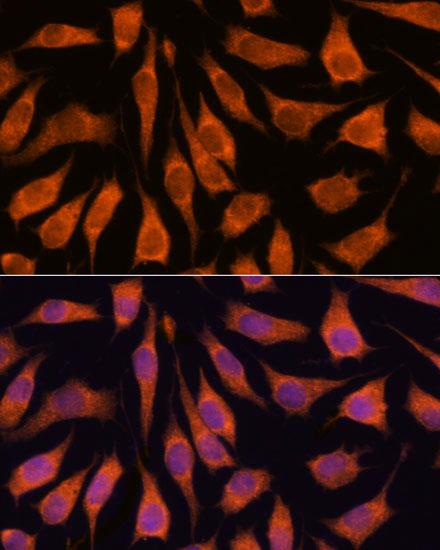 Immunofluorescence analysis of L929 cells using GOLPH3 antibody at
dilution of 1:100. Blue: DAPI for nuclear staining.