Cat Number:
MAB-94446
Size:
100 ug
Clone:
IS-23
Concentration:
1mg/ml
Host:
Ms
Isotype:
IgG2b
Immunogen:
A synthesized peptide derived from human EGFR (ErbB 1) Antibody EGFR is a receptor tyrosine kinase. Receptor for epidermal growth factor (EGF) and related growth factors including TGFalpha, amphiregulin, betacellulin, heparin-binding EGF-like growth factor, GP30 and vaccinia virus growth factor. Is involved in the control of cell growth and differentiation.
Reactivity:
Hu, Ms, Rt
Applications:

Western Blot: 1:500-1:2000
Immunohistochemistry: 1:50-1:100
Immunocytochemistry: 1:50- 1:200
Immunofluorescence: 1:50-1:200
Immunoprecipitation: 1:50-1:200

Molecular:
175kDa
Purification:
Affinity-chromatography
Form:
Liquid
Buffer:
PBS with 0.02% sodium azide,50% glycerol,pH7.3.
Storage:
Store at +4°C short term. Store at -20°C long term. Avoid freeze / thaw cycle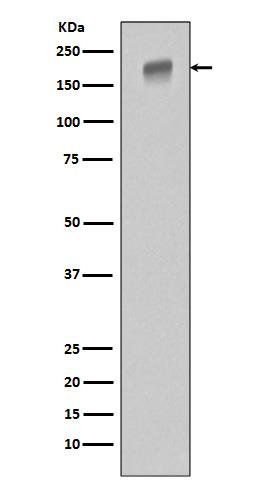 Western blot analysis of extracts of OVCAR3 cells, using EGFR Rabbit pAb at 1:1000 dilution.
Secondary antibody: HRP Goat Anti-Rabbit IgG (H+L) at 1:10000 dilution.
Lysates/proteins: 25ug per lane.
Blocking buffer: 3% nonfat dry milk in TBST.
Detection: ECL West Pico Plus.
Exposure time: 10s.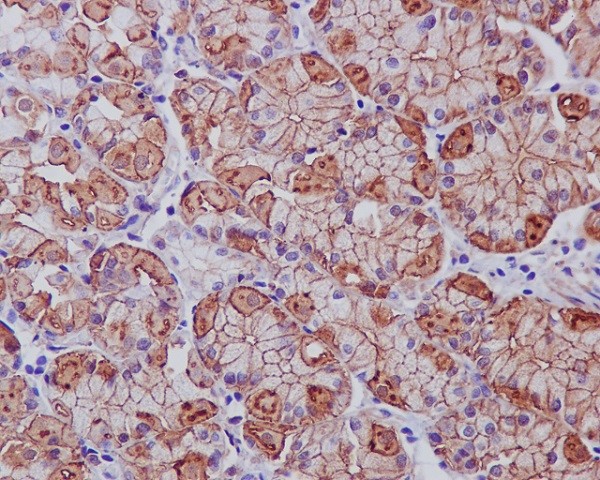 IHC analysis of EGFR using anti-EGFR antibody on paraffin-embedded human stomach cancer.
EGFR was detected in paraffin-embedded section. Heat mediated antigen retrieval was performed in citrate buffer (pH6, epitope retrieval solution) for 20 mins. The tissue section was blocked with 10% goat serum. The tissue section was then incubated with 1ug/ml rabbit anti-EGFR Antibody overnight at 4°C. Biotinylated goat anti Rabbit IgG IgG antibody was used as secondary antibody and incubated for 30 minutes at 37°C. The tissue section was developed using Strepavidin-Biotin-Complex (SABC) with DAB as the chromogen.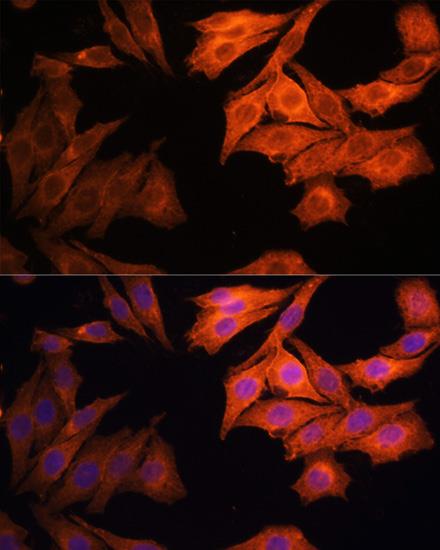 Immunofluorescence analysis of HeLa cells using EGFR antibody at dilution
of 1:100.
Blue: DAPI for nuclear staining.