HSP70-2 Rabbit Polyclonal Antibody
Cat Number:
AB-83532
Conjugate:
Unconjugated
Size:
100 ug
Clone:
POLY
Concentration:
1mg/ml
Host:
Rabbit
Isotype:
IgG
Immunogen:
Recombinant fusion protein containing a sequence corresponding to amino acids 400-639 of human HSP70-2
Reactivity:
Human, Mouse, Rat
Applications:

Western Blot 1:500 – 1:2000
Immunofluorescence 1:50 – 1:200
Immunocytochemistry 1:50 – 1:200

Molecular Weight:
75kDa
Purification:
Affinity Purified
Synonyms:
HSPA2;HSP70-3
Background:

Molecular chaperone implicated in a wide variety of cellular processes, including protection of the proteome from stress, folding and transport of newly synthesized polypeptides, activation of proteolysis of misfolded proteins and the formation and dissociation of protein complexes. Plays a pivotal role in the protein quality control system, ensuring the correct folding of proteins, the re-folding of misfolded proteins and controlling the targeting of proteins for subsequent degradation. This is achieved through cycles of ATP binding, ATP hydrolysis and ADP release, mediated by co-chaperones. The affinity for polypeptides is regulated by its nucleotide bound state. In the ATP-bound form, it has a low affinity for substrate proteins. However, upon
hydrolysis of the ATP to ADP, it undergoes a conformational change that increases its affinity for substrate proteins. It goes through repeated cycles of ATP hydrolysis and nucleotide exchange, which permits cycles of substrate binding and release. Plays a role in spermatogenesis. In association with SHCBP1L may participate in the maintenance of spindle integrity during meiosis in male germ cells (By similarity.

Form:
Liquid
Buffer:
PBS with 0.02% sodium azide,50% glycerol,pH7.3.
Storage:
Store at -20°C. Avoid freeze / thaw cycles.
Western blot analysis of extracts of various cell lines, using HSP70-2 antibody at 1:1000
dilution.
Secondary antibody: HRP Goat Anti-Rabbit IgG (H+L) at 1:10000 dilution.
Lysates/proteins: 25ug per lane.
Blocking buffer: 3% nonfat dry milk in TBST.
Detection: ECL Basic Kit.
Exposure time: 60s.
Immunofluorescence analysis of L929 cells
using HSP70-2 antibody at dilution
of 1:100. Blue: DAPI for nuclear staining.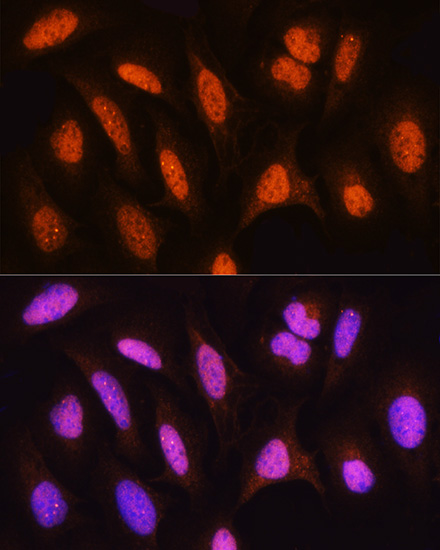 Immunofluorescence analysis of U2OS
cells using HSP70-2 antibody at
dilution of 1:100. Blue: DAPI for nuclear
staining.