Cat Number:
MAB-94634
Conjugate:
Unconjugated
Size:
100 ug
Clone:
MI1
Concentration:
1mg/ml
Host:
Rb
Isotype:
IgG
Immunogen:
A synthesized peptide derived from human IL1 beta.
Reactivity:
Hu
Applications:

Western Blot: 1:500 – 1:2000
Immunofluorescence: 1:50 – 1:200

Molecular Weight:
35kDa
Purification:
Aff. Pur.
Synonyms:
IL-1;IL1-BETA;IL1F2;IL1 beta;IL1B
Background:

The protein encoded by this gene is a member of the interleukin 1 cytokine family. This cytokine is produced by activated macrophages as a proprotein, which is proteolytically processed to its active form by caspase 1 (CASP1/ICE). This cytokine is an important mediator of the inflammatory response, and is involved in a variety of cellular activities, including cell proliferation, differentiation, and apoptosis. The induction of cyclooxygenase-2 (PTGS2/COX2) by this cytokine in the central nervous system (CNS) is found to contribute to inflammatory pain hypersensitivity. This gene and eight other interleukin 1 family genes form a cytokine gene cluster on chromosome 2.

Form:
Liquid
Buffer:
PBS with 0.02% sodium azide,0.05% BSA,50% glycerol, pH7.3
Storage:
Store at -20℃. Avoid freeze / thaw cycles.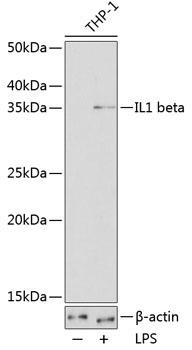 Western blot analysis of extracts of THP-1
cells, using IL1 beta antibody at 1:1000
dilution.THP-1 cells were treated by
LPS (1 μg/mL) at 37℃ for 8 hours.
Secondary antibody: HRP Goat Anti-Rabbit
IgG (H+L) at 1:10000 dilution.
Lysates/proteins: 25ug per lane.
Blocking buffer: 3% nonfat dry milk in TBST.
Detection: ECL West Pico Plus.
Exposure time: 3min.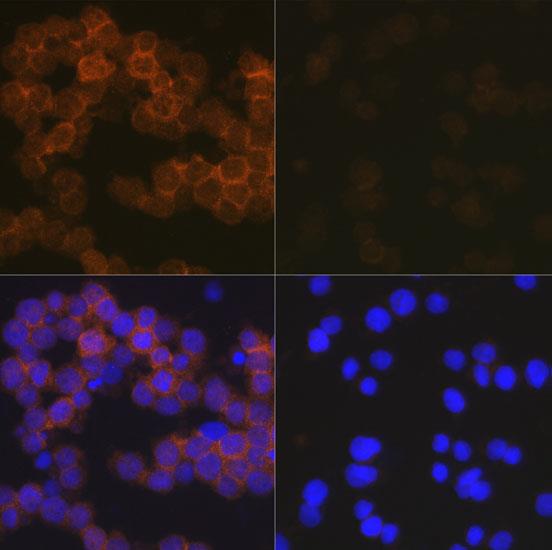 Immunofluorescence analysis of THP-1
cells using IL1 beta antibody.
(THP-1 cells were treated by LPS
(1 μg/mL) at 37℃ for 8 hours.
Blue: DAPI for nuclear staining.
References
References for IL1 beta Rabbit mAb
Product:IL1 beta Rabbit mAb
Journal:Biomed Res Int
Application:WB
IF:2.27
Species:Homo sapiens
PMID:32714980
Title:CD147 Aggravated Inflammatory Bowel Disease by Triggering NF-κB-Mediated Pyroptosis
References for IL1 beta Rabbit mAb
Product:IL1 beta Rabbit mAb
Journal:Scand J Immunol
Application:WB
IF:2.71
Species:Mus musculus
PMID:33031600
Title:T cell immunoglobulin and mucin domain protein 3 inhibits glycolysis in RAW 264.7 macrophages through Hexokinase 2
References for IL1 beta Rabbit mAb
Product:IL1 beta Rabbit mAb
Journal:Inflammation
Application:IHC
IF:3.21
Species:Homo sapiens
PMID:33140204
Title: The Effect of Porphyromonas gingivalis Lipopolysaccharide on the Pyroptosis of Gingival Fibroblasts