Cat Number:
AB-84310
Size:
100 ug
Clone:
POLY
Concentration:
1mg/ml
Host:
Rb
Isotype:
IgG
Immunogen:
Recombinant fusion protein containing a sequence corresponding to amino acids 1-200 of human KL
Reactivity:
Hu, Ms, Rt
Applications:

Western Blot: 1:500 – 1:2000
Immunohistochemistry: 1:50 – 1:200
Immunofluorescence: 1:50 – 1:200

Molecular:
65kDa, 120kDa
Purification:
Aff. Pur.
Synonyms:
KL;klotho
Background:

This gene encodes a type-I membrane protein that is related to beta-glucosidases. Reduced production of this protein has been observed in patients with chronic renal failure (CRF), and this may be one of the factors underlying the degenerative processes (e.g., arteriosclerosis, osteoporosis, and skin atrophy) seen in CRF. Also, mutations within this protein have been associated with ageing and bone loss.

Form:
Liquid
Buffer:
PBS with 0.02% sodium azide,50% glycerol,pH7.3.
Storage:
Store at -20℃. Avoid freeze / thaw cycles.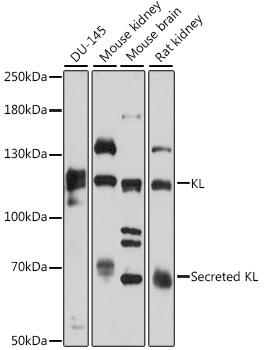 Western blot analysis of extracts of various cell lines, using KL antibody at 1:3000 dilution.
Secondary antibody: HRP Goat Anti-
Rabbit IgG (H+L) at 1:10000
dilution.
Lysates/proteins: 25ug per lane.
Blocking buffer: 3% nonfat dry milk in
TBST.
Detection: ECL West Pico Plus.
Exposure time: 5s.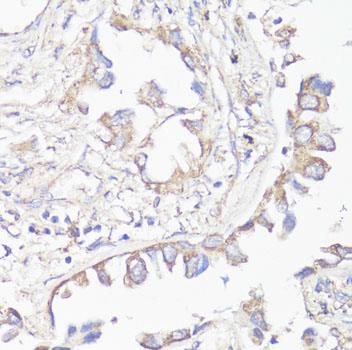 Immunohistochemistry of paraffin
Embedded human lung cancer using KL antibody at dilution of
1:200 (40x lens).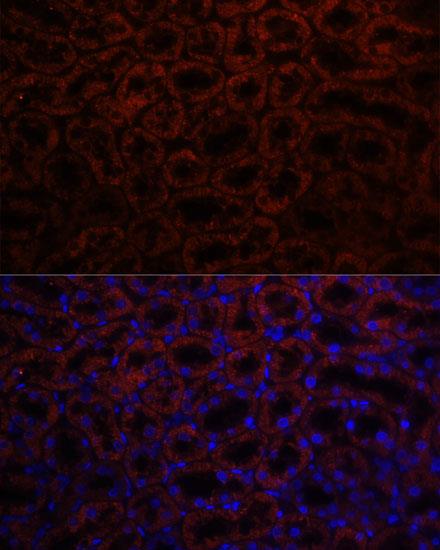 Immunofluorescence analysis of rat
kidney using KL antibody at
dilution of 1:100.
Blue: DAPI for nuclear staining.
References
References for KL Rabbit Polyclonal Antibody
Product: KL Rabbit pAb
Journal:Journal of Molecular Medicine
Application:WB IF:4.686
Species:Mus musculus
PMID:29730698
Title: Klotho preservation by Rhein promotes toll-like receptor 4 proteolysis and attenuates lipopolysaccharide-induced acute kidney injury