Neuropeptide Y receptor 2 (NPY2R)
Cat Number:
AB-84232
Conjugate:
Unconjugated
Size:
100 ug
Clone:
POLY
Concentration:
1mg/ml
Host:
Rb
Isotype:
IgG
Immunogen:
Synthesized peptide derived from human NPY2-R
Reactivity:
Hu, Ms, Rt
Applications:

Western Blot: 1:500-1:2000
Immunofluorescence: 1:200-1:1000
ELISA: 1:5000

Molecular Weight:
43kDa
Purification:
The antibody was affinity-purified from rabbit antiserum by affinity chromatography using epitope-specific immunogen.
Synonyms:
Neuropeptide Y receptor type 2 NPY2-R NPY-Y2 receptor Y2 receptor
Background:

Receptor for neuropeptide Y and peptide YY. The rank order of affinity of this receptor for pancreatic polypeptides is PYY > NPY > PYY (3-36) > NPY (2-36) > [Ile-31, Gln-34] PP > [Leu-31, Pro-34] NPY > PP, [Pro-34] PYY and NPY free acid.

Form:
Liquid
Buffer:
Liquid in PBS containing 50% glycerol, 0.5% BSA and 0.02% sodium azide.
Storage:
Store at -20°C, and avoid repeat freeze-thaw cycles.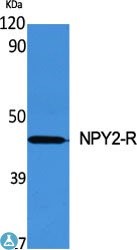 Western Blot (WB) analysis of specific cells using NPY2-R polyclonal antibody.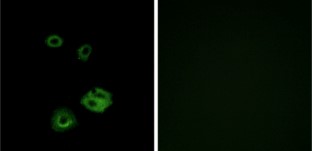 Immunofluorescence F images in A549
cells using NPY2-R, where the right side is blocked with peptide