Cat Number:
AB-90170
Conjugate:
Unconjugated
Size:
100 ug
Clone:
POLY
Concentration:
1mg/ml
Host:
Rb
Isotype:
IgG
Immunogen:
A synthetic peptide corresponding to a sequence within amino acids 600-700 of human GRIN1.
Reactivity:
Hu, Ms, Rt
Applications:

Western Blot: 1:500 – 1:2000
Immunohistochemistry: 1:50 – 1:200
Immunofluorescence: 1:50 – 1:200

Molecular Weight:
110kDa
Purification:
Aff. Pur.
Synonyms:
GRIN1;GluN1;MRD8;NMD-R1;NMDA1;NMDAR1;NR1;NMDA1
Background:

The protein encoded by this gene is a critical subunit of N-methyl-D-aspartate receptors, members of the glutamate receptor channel superfamily which are heteromeric protein complexes with multiple subunits arranged to form a ligandgated ion channel. These subunits play a key role in the plasticity of synapses, which is believed to underlie memory and learning. Cell-specific factors are thought to control expression of different isoforms, possibly contributing to the functional diversity of the subunits. Alternatively, spliced transcript variants have been described.

Form:
Liquid
Buffer:
PBS with 0.02% sodium azide,50% glycerol,pH7.3.
Storage:
Store at -20℃. Avoid freeze / thaw cycles.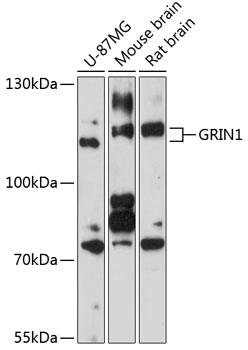 Western blot analysis of extracts of
various cell lines, using GRIN1
antibody at 1:1000 dilution.
Secondary antibody: HRP Goat Anti-
Rabbit IgG (H+L) at 1:10000
dilution.
Lysates/proteins: 25ug per lane.
Blocking buffer: 3% nonfat dry milk in
TBST.
Detection: ECL West Pico Plus.
Exposure time: 90s.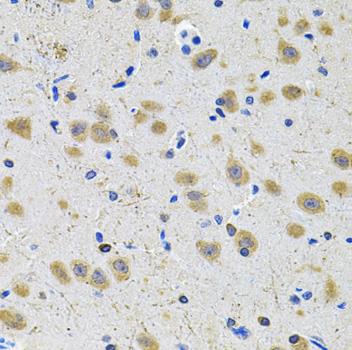 Immunohistochemistry of paraffinembedded
rat brain using GRIN1
Antibody at dilution of
1:100 (40x lens).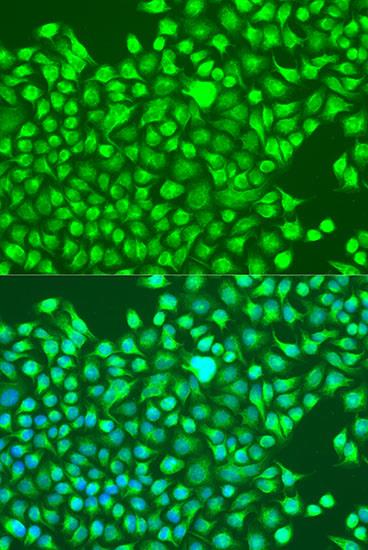 Immunofluorescence analysis of
U2OS cells using GRIN1 antibody
at dilution of 1:100. Blue:
DAPI for nuclear staining.