Cat Number:
MAB-94448
Conjugate:
Unconjugated
Size:
100 ug
Clone:
9A11B9
Concentration:
1mg/ml
Host:
Ms
Isotype:
IgG1
Immunogen:
Purified recombinant fragment of S-100 beta expressed in E. Coli.
Reactivity:
Hu
Applications:

Western Blot: 1:500-1:2000
Immunohistochemistry: 1:200-1:1000
ELISA: 1:10000

Purification:
Aff. Pur.
Synonyms:
Protein S100-B S-100 protein beta chain S-100 protein subunit beta S100 calcium-binding protein B
Background:

Weakly binds calcium but binds zinc very tightly-distinct binding sites with different affinities exist for both ions on each monomer. Physiological concentrations of potassium ion antagonize the binding of both divalent cations, especially affecting high-affinity calcium-binding sites. Binds to and initiates the activation of STK38 by releasing autoinhibitory intramolecular interactions within the kinase. Interaction with AGER after myocardial infarction may play a role in myocyte apoptosis by activating ERK1/2 and p53/TP53 signaling. Could assist ATAD3A cytoplasmic processing, preventing aggregation and favoring mitochondrial localization. May mediate calcium-dependent regulation on many physiological processes by interacting with other proteins, such as TPR-containing proteins, and modulating their activity.

Form:
Liquid
Buffer:
Ascitic fluid containing 0.03% sodium azide
Storage:
Store at -20°C, and avoid repeat freeze-thaw cycles.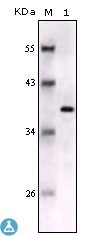 Western Blot (WB) analysis using S-100 beta Monoclonal Antibody against full-length S-100 beta recombinant protein.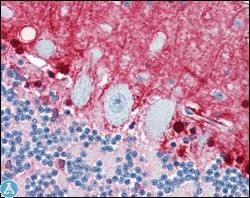 Immunohistochemistry (IHC) analysis of paraffin-embedded Human Brain, cerebellun with DAB staining using S-100 beta Monoclonal Antibody.