Cat Number:
AB-84381
Conjugate:
Unconjugated
Size:
100 ug
Clone:
POLY
Concentration:
1mg/ml
Host:
Rb
Isotype:
IgG
Immunogen:
Recombinant fusion protein containing a sequence corresponding to amino acids 1-280of human TAF15
Reactivity:
Hu
Applications:

WB: 1:500 – 1:2000
IHC: 1:50 – 1:100
IF: 1:50 – 1:200
IP: 1:50 – 1:200

Molecular Weight:
80kDa
Purification:
Aff. Pur.
Synonyms:
TAF15;Npl3;RBP56;TAF2N;TAFII68
Background:

This gene encodes a member of the TET family of RNA-binding proteins. The encoded protein plays a role in RNA polymerase II gene transcription as a component of a distinct subset of multi-subunit transcription initiation factor TFIID complexes. Translocations involving this gene play a role in acute leukemia and extraskeletal myxoid chondrosarcoma, and mutations in this gene may play a role in amyotrophic lateral sclerosis. Alternatively spliced transcript variants encoding multiple isoforms have been observed for this gene.

Form:
Liquid
Buffer:
Buffer: PBS with 0.02% sodium azide,50% glycerol,pH7.3.
Storage:
Store at -20℃. Avoid freeze / thaw cycles.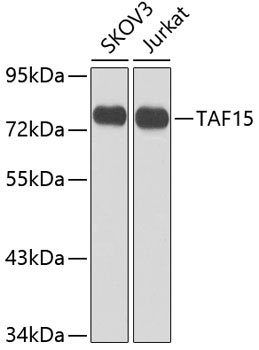 Western blot analysis of extracts of various cell lines, using TAF15 antibody at 1:1000
dilution.
Secondary antibody: HRP Goat Anti-Rabbit IgG (H+L) at 1:10000 dilution.
Lysates/proteins: 25ug per lane. Blocking buffer: 3% nonfat dry milk in TBST.
Detection: ECL West Pico Plus.
Exposure time: 5s.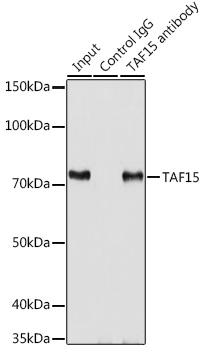 Immunoprecipitation analysis of 200ug extracts of SKOV3 cells using 3ug TAF15 antibody.
Western blot was performed from the immunoprecipitate using TAF15 antibody at a dilition
of 1:1000.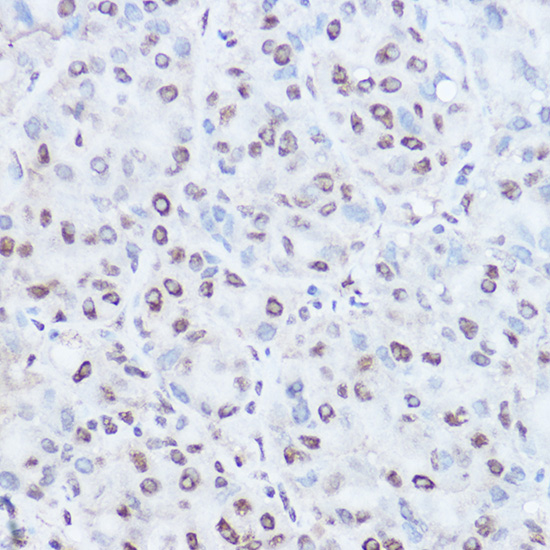 Immunohistochemistry of paraffinembedded
human liver cancer using TAF15
Rabbit pAb at dilution of 1:150
(40x lens).