TDP43 Rabbit Polyclonal Antibody
Cat Number:
AB-83805
Conjugate:
Unconjugated
Size:
100 ug
Clone:
POLY
Concentration:
1mg/ml
Host:
Rabbit
Isotype:
IgG
Immunogen:
Recombinant fusion protein containing a sequence corresponding to amino acids 1-260 of human TDP-43
Reactivity:
Human, Mouse, Rat
Applications:

Western Blot 1:500 – 1:2000
Immunoprecipitation 1:50 – 1:100
RNA Immunoprecipitation 1:20 – 1:50

Molecular Weight:
42kDa
Purification:
Affinity Purified
Synonyms:
ALS10;TDP-43;TARDBP;TDP43
Background:

HIV-1, the causative agent of acquired immunodeficiency syndrome (AIDS), contains an RNA genome that produces a chromosomally integrated DNA during the replicative cycle. Activation of HIV-1 gene expression by the transactivator Tat is dependent on an RNA regulatory element (TAR) located downstream of the transcription initiation site. The protein encoded by this gene is a transcriptional repressor that binds to chromosomally integrated TAR DNA and represses HIV-1 transcription. In addition, this protein regulates alternate splicing of the CFTR gene. A similar pseudogene is present on chromosome 20.

Form:
Liquid
Buffer:
PBS with 0.02% sodium azide,50% glycerol,pH7.3.
Storage:
Store at -20℃. Avoid freeze / thaw cycles.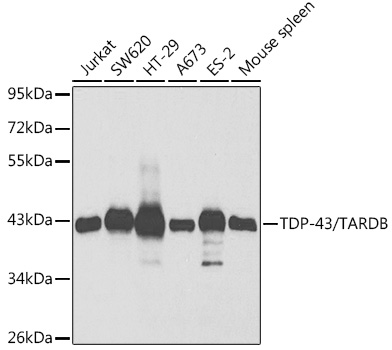 Western blot analysis of extracts of various cell lines, using TDP43 antibody at 1:1000 dilution.
Secondary antibody: HRP Goat Anti-Rabbit IgG (H+L) at 1:10000 dilution.
Lysates/proteins: 25ug per lane.
Blocking buffer: 3% nonfat dry milk in TBST.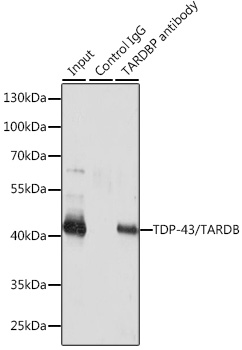 Immunoprecipitation analysis of 200ug extracts of SW620 cells using 3ug TDP43 antibody. Western blot was performed from the immunoprecipitate using TDP43 antibody at a dilution of 1:500.